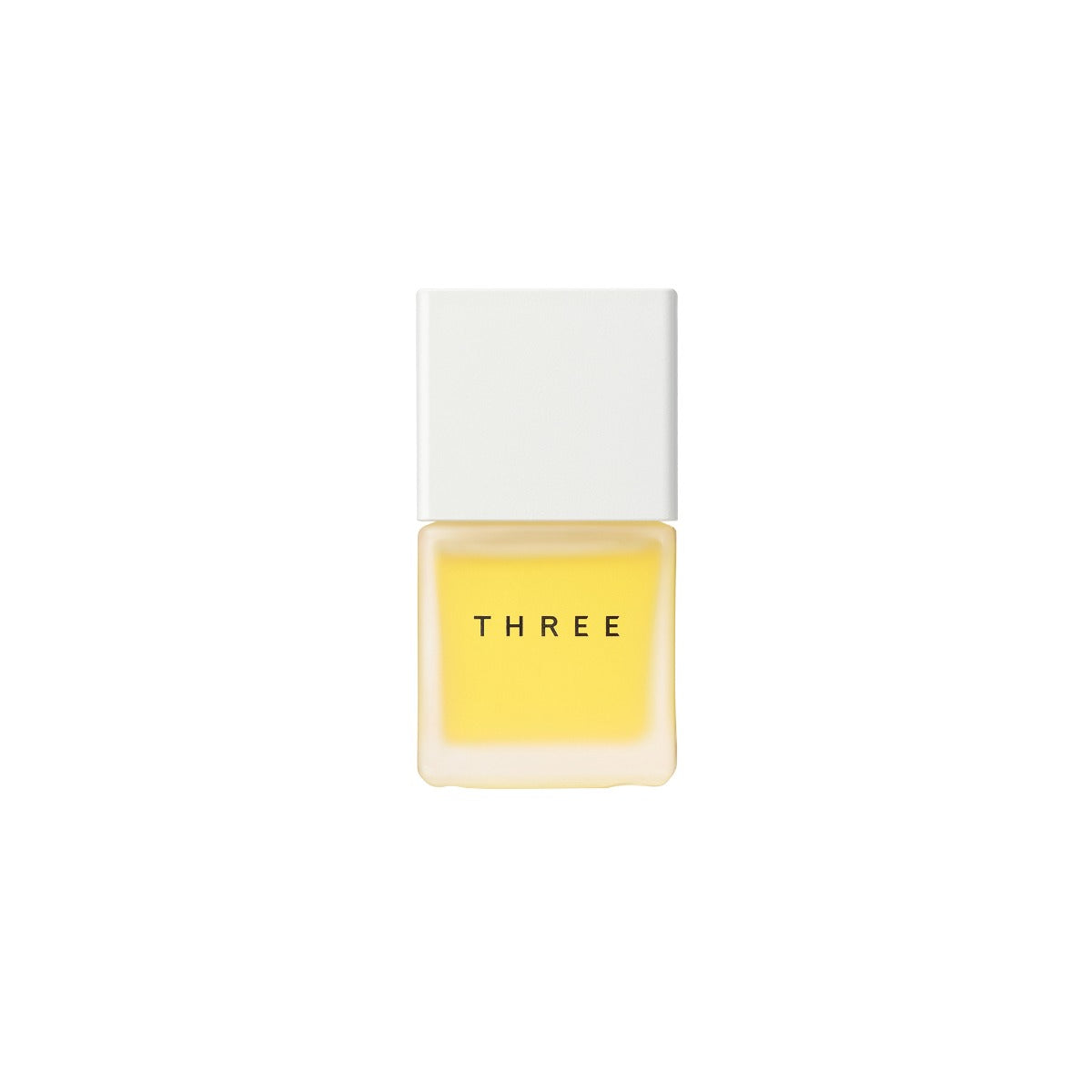 THREE Aiming Facial Oil Essence R
30 ml., 99% naturally derived ingredients
Sale price

฿ 5,800.00
Regular price
(/)
หรือ 3 งวด จาก ฿ 1,933.33 ด้วย
For your skin, any day. A beauty serum made of rich oils, which envelops the skin to add a glow.

Made with natural essential oils and extracts, the oily beauty serum features a high affinity to the skin and replenishes it with a melty texture.

The dense oil penetrates* throughout the skin without missing any unevenness, increasing the sense of indulgence in the skincare routine.

Deeply nourished, the skin is left plump, hydrated, and radiant.

* As far as the horny layer

Features

● Oil's unique synergy of moisturizing and protecting

The fluid oil puts down roots into the skin's moisture barrier and throughout the horny layer, suppressing the evaporation of water to keep the skin moisturized for enhanced elasticity.

●Achieve the improved elasticity, bounce, and radiance of the skin

For the mind, body, and skin that repeats the cycle of fluctuations. It smoothens, supples, and plumps the skin, bringing improved elasticity and radiance.

●A sensual aroma that is sweet yet deep, with a spicy accent

A blended essential oil featuring a base note of clear yet sweet rose coupled with a spicy herbal scent. The sensual aroma comforts and lifts up your spirit.

FDA no. 10-2-6500038287
How To Use

1.Take an appropriate amount on the palm.

2.Apply all over the face, massaging upwards from the jawline.

3.Finally, cup the entire face with both hands, and press the skin gently to work it in (forehead, the center of the face, cheeks, the outline of the face).

● ใช้ผลิตภัณฑ์ก่อนทาโลชั่น เพื่อลดความเหนอะหนะ

ล้างหน้า -> Aiming Facial Oil Essence R → Aiming Lotion R → Aiming Emulsion R → Aiming Cream R

● ใช้หลังโลชั่น ใช้ผลิตภัณฑ์เป็นทรีทเมนต์

ล้างหน้า →Aiming Lotion R → Aiming Facial Oil Essence R → Aiming Emulsion R → Aiming Cream R
Ingredients

SQUALANE,ISOSTEARYL ISOSTEARATE,SIMMONDSIA CHINENSIS (JOJOBA) SEED OIL,OLEA EUROPAEA (OLIVE) FRUIT OIL,POLYGLYCERYL-3 DIISOSTEARATE,CITRUS AURANTIUM BERGAMIA (BERGAMOT) FRUIT OIL,PELARGONIUM GRAVEOLENS FLOWER OIL,BRASSICA CAMPESTRIS (RAPESEED) SEED OIL,ROSMARINUS OFFICINALIS (ROSEMARY) LEAF OIL,PUNICA GRANATUM SEED OIL,DAUCUS CAROTA SATIVA (CARROT) SEED OIL,GLYCYRRHIZA GLABRA (LICORICE) ROOT EXTRACT,ROSA DAMASCENA FLOWER OIL,ORYZA SATIVA (RICE) BRAN OIL,HIPPOPHAE RHAMNOIDES FRUIT OIL,FOENICULUM VULGARE (FENNEL) OIL,CAMELLIA SINENSIS SEED OIL,TOCOTRIENOLS,TOCOPHEROL,ALTHAEA OFFICINALIS ROOT EXTRACT,ORYZA SATIVA (RICE) BRAN EXTRACT,ROSA DAMASCENA FLOWER WATER,WATER,CAPRYLIC/CAPRIC TRIGLYCERIDE,GLYCERIN,ROSA DAMASCENA FLOWER EXTRACT,PROPANEDIOL,PENTYLENE GLYCOL,POLYGONUM TINCTORIUM LEAF EXTRACT,CYMBIDIUM GRANDIFLORUM (ORCHID) FLOWER EXTRACT,TEPHROSIA PURPUREA SEED EXTRACT,SODIUM BENZOATE,CITRIC ACID,PRUNUS MUME FRUIT EXTRACT,ROSMARINUS OFFICINALIS (ROSEMARY) LEAF EXTRACT
THREE Ingredients

Damask rose extract

Ingredients extracted from organic roses (damask roses) grown on organic farms in Wakayama Prefecture. These two useful ingredients, which differ in extraction methods and characteristics, are expected to protect vulnerable skin and soften and condition it while moisturizing it.

Fennel extract

น้ำมันหอมระเหยที่สกัดได้จากเมล็ดของพืชตระกูลยี่หร่า สมุนไพรที่มีกลิ่นรสที่เผ็ดร้อนที่มอบความรู้สึกปลุก กระตุ้นพลังงานที่หลับไหลจากภายในส่งเสริมระบบการการไหลเวียน และมีคุณสมบัติในการบำบัดสุขภาพความ งดงาม

An extract from the flowers of cymbidium, a member of the orchid family. It fills the skin with fresh moisture and makes it soft and smooth.
THREE Aiming Facial Oil Essence R
Sale price

฿ 5,800.00
Regular price
Choose options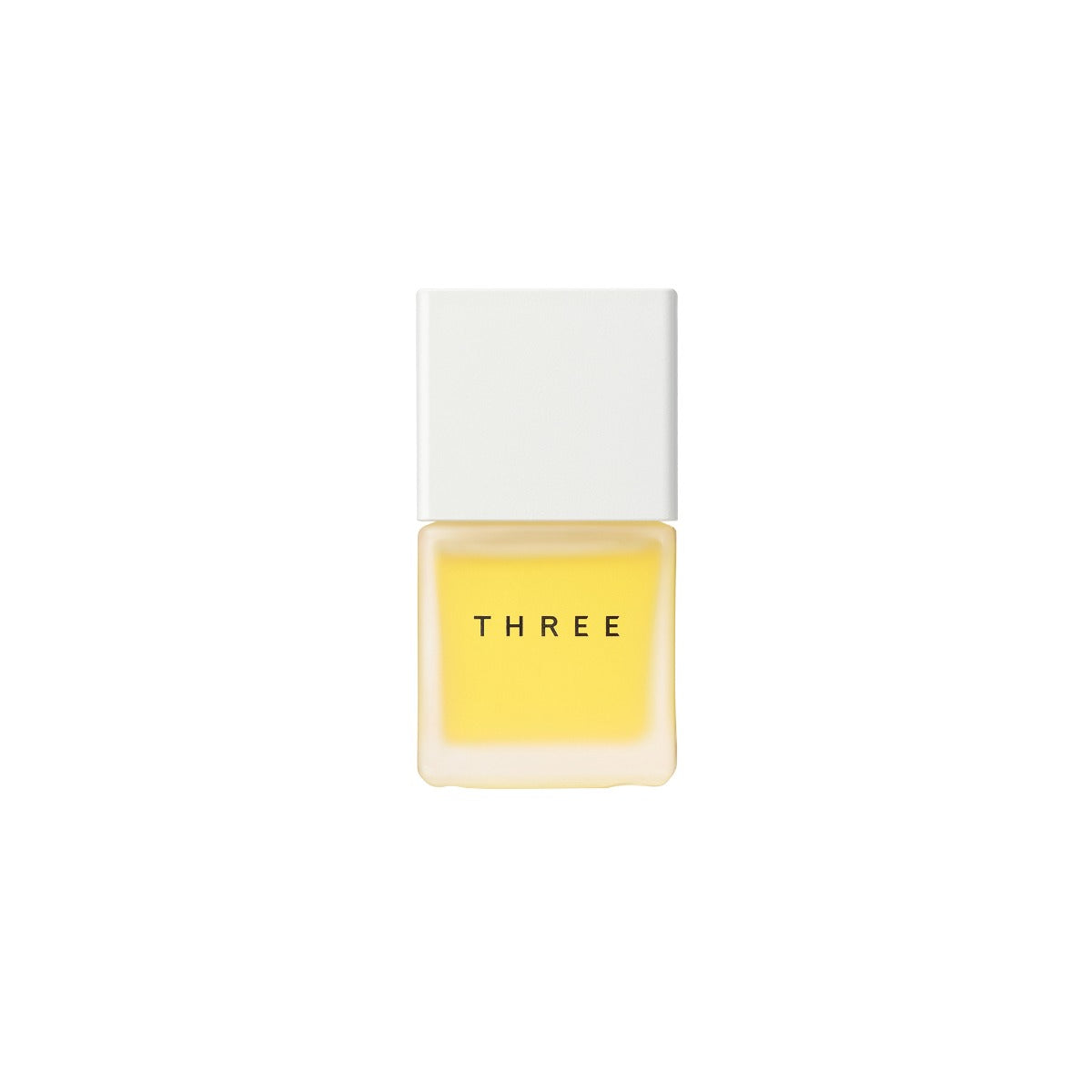 Sale price

฿ 5,800.00
Regular price
(/)
หรือ 3 งวด จาก ฿ 1,933.33 ด้วย
View details
INSTAGRAM
LINE UP