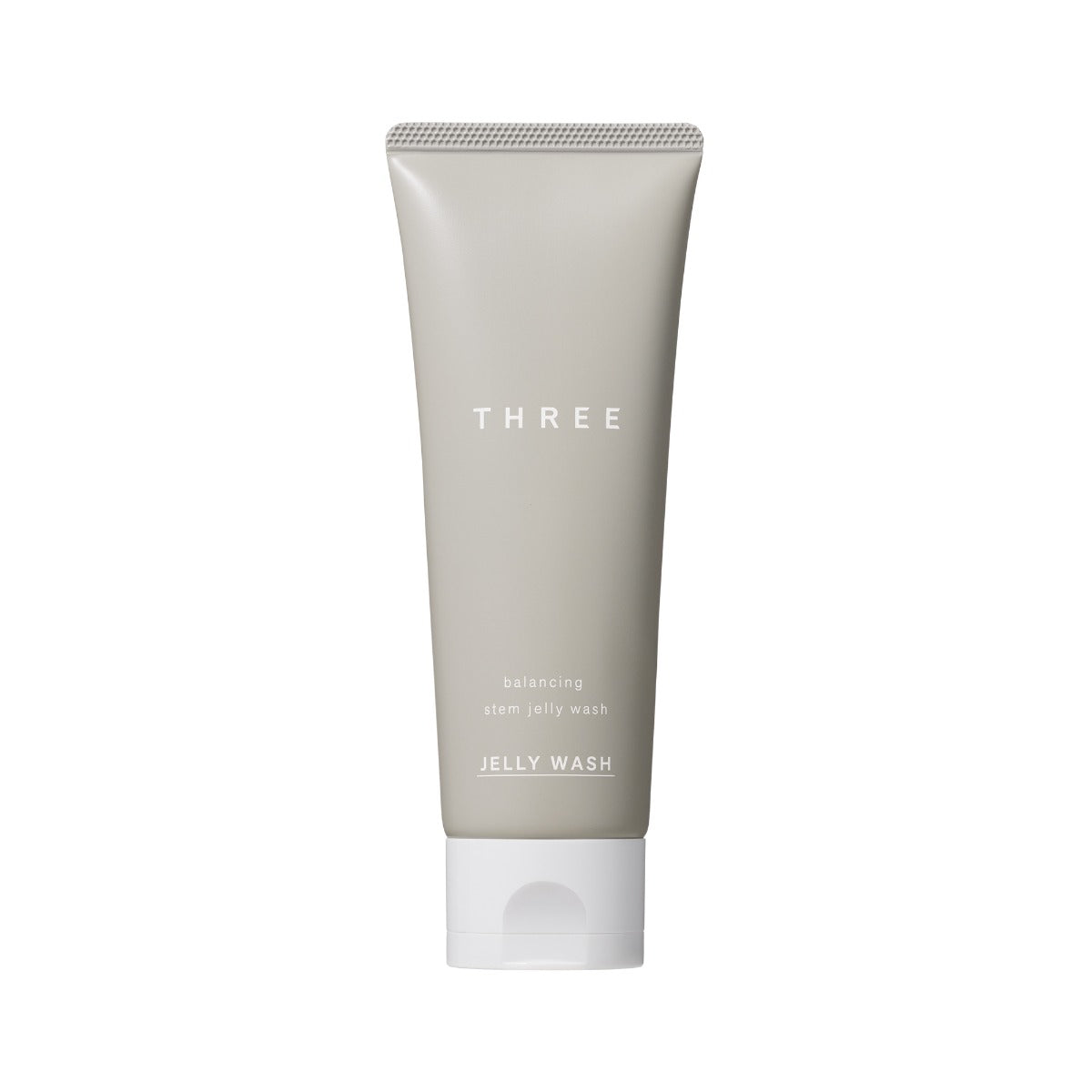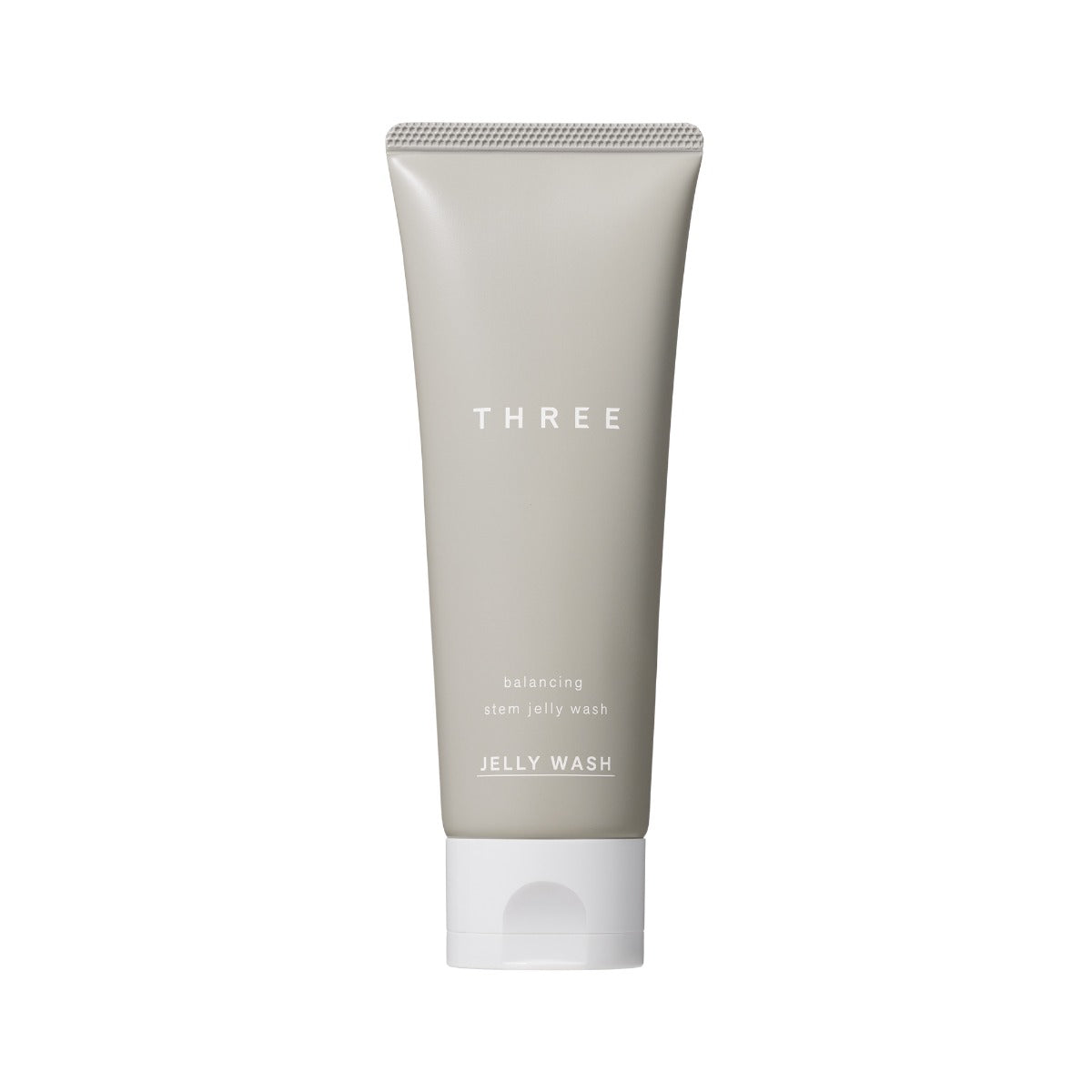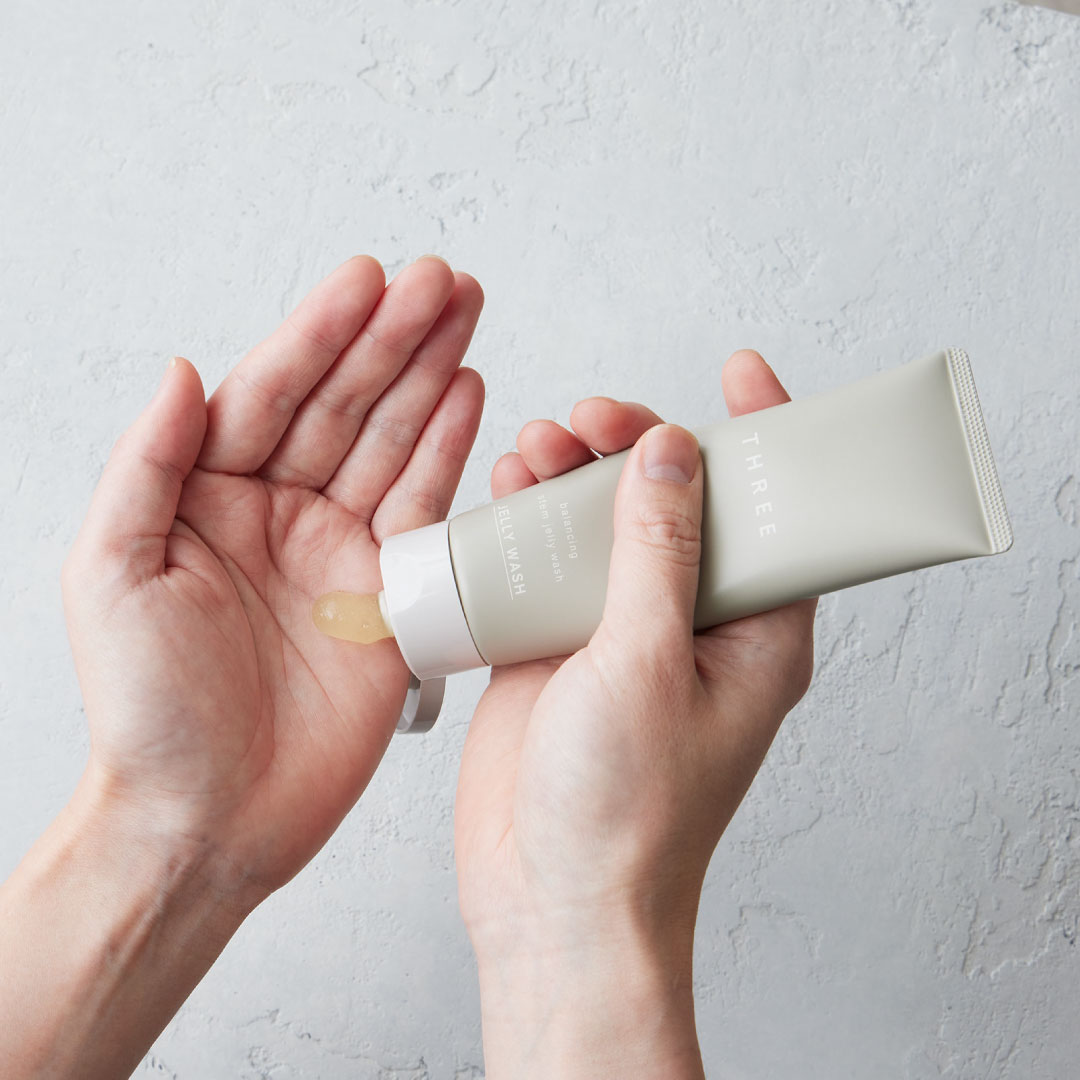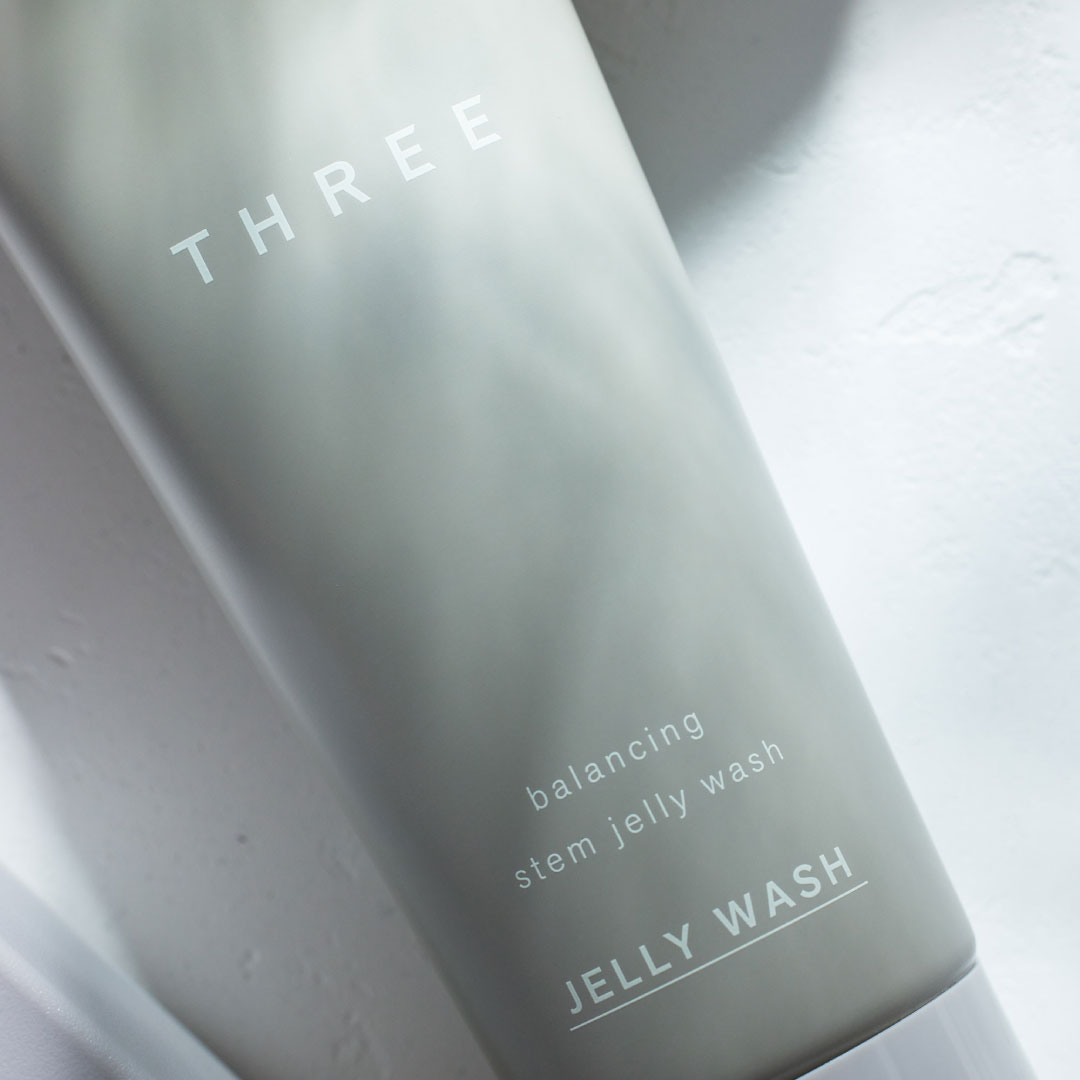 THREE Balancing Stem Jelly Wash
100g
Sale price

฿ 1,800.00
Regular price
(/)
หรือ 3 งวด จาก ฿ 600.00 ด้วย
A facial wash with a new feel! No need to lather; simply spread over the skin and then rinse off.

The agar-agar jelly formula containing botanical scrub tackles roughness and stiffness, leaving your skin refreshed right down to the base of the pores.

The cool jelly feels pleasant to the touch, and simply spreading this non-lather facial wash over the skin and rinsing gives you skin that is free from visible pores.

This gel wash, using THREE's original agar-agar jelly formula, spreads smoothly across your skin, adhering closely to every contour and picking up all the dirt and sebum from your pores, missing nothing. The soft botanical scrub contained in the wash gently removes excess keratin, which causes roughness and prominent pores. It softens and loosens up your skin as it washes, leaving it fresh and highly translucent.

Features

• A gel wash containing a blend of essential oils, botanical waters, and plant extracts, solidified with THREE's original agar-agar jelly formula.

• Simply spreading over the skin and rinsing, without lathering, washes away every trace of dirt even inside the pores.

For bright, translucent, fresh skin.

• Packed with pear juice fermented liquid, lime juice, and more. Softens and loosens up stiff skin.

• The spherical botanical scrub (derived from spruce, a member of the pine family) is gentle and pleasant-feeling to the skin, and removes keratin.

Removes all traces of dirt from the pores, leaving them clean.

FDA no. 10-2-6600006156
How To Use

Rinse the entire face with cool or lukewarm water.
Put a suitable amount (the size of a cherry) onto wet hands, then apply the foam to your chin, cheeks, nose, and forehead. Taking time to enjoy the fragrance, spread the foam from the center of your face outward in small circular motions, then blend it gently into your skin for around ten seconds. Next, rinse thoroughly with cool or lukewarm water. Avoid areas around the eyes.
Ingredients

WATER (AQUA),PROPANEDIOL,GLYCERIN,PEG-20 GLYCERYL ISOSTEARATE,PEG-7 CAPRYLIC/CAPRIC GLYCERIDES,PENTYLENE GLYCOL,AGAR,PEG-50 HYDROGENATED CASTOR OIL,CARBOMER,PHENOXYETHANOL,POTASSIUM HYDROXIDE,MICROCRYSTALLINE CELLULOSE,LAVANDULA ANGUSTIFOLIA (LAVENDER) OIL,CITRUS AURANTIUM BERGAMIA (BERGAMOT) FRUIT OIL,ROSMARINUS OFFICINALIS (ROSEMARY) LEAF OIL,BUTYLENE GLYCOL,ALCOHOL,CAMELLIA SINENSIS SEED OIL,HAMAMELIS VIRGINIANA (WITCH HAZEL) WATER,LACTOBACILLUS/PEAR JUICE FERMENT FILTRATE,MELALEUCA ERICIFOLIA LEAF OIL,TOCOPHEROL,PENTASODIUM PENTETATE,BOSWELLIA CARTERII OIL,CITRUS AURANTIFOLIA (LIME) JUICE,MALIC ACID,ORIGANUM MAJORANA LEAF OIL,PANAX GINSENG ROOT EXTRACT,DEXTRIN,REHMANNIA CHINENSIS ROOT EXTRACT,ARCTIUM LAPPA ROOT EXTRACT,AKEBIA TRIFOLIATA STEM EXTRACT,GARDENIA FLORIDA FRUIT EXTRACT,PORIA COCOS EXTRACT,CROCUS SATIVUS FLOWER EXTRACT
THREE Ingredients

Rosalina Oil

Extracted from the branches and leaves of Rosalina of the Myrtaceae family. Also known as lavender tea tree. It has a well-balanced fragrance with a mix of floral and cool sensations, which soothes the body and mind, freeing them from daily stress.

Saffron & Burdock

THREE ผสาน 2 ส่วนผสมที่ผลิตขึ้นภายในประเทศญี่ปุ่น อย่างหญ้าฝรั่น (Saffron) และโกโบ (Burdock) ซึ่งอุดมได้วยคุณสมบัติมากมาย มอบความชุ่มชื้น และความสดชื่นให้แก่ผิว โดยหญ้าฝรั่น (Saffron) ถูกเก็บเกี่ยวในจังหวัดโออิตะ ประเทศญี่ปุ่น ซึ่งเป็นจังหวัดที่ขึ้นชื่อในการผลิตแซฟฟรอนคุณภาพสูง หลังจากที่เกสรดอกไม้ถูกนำไปทำเป็นเครื่องเทศ กลีบของดอกแซฟฟรอนจะถูกนำมาสกัดผ่านกระบวนการ Upcycle เพื่อสกัดมาเป็นส่วนผสมหลัก

Pear Juice Fermented Liquid

An ingredient obtained by fermenting pear juice with lactic acid bacteria. Including ingredients such as malic acid, citric acid, minerals, free amino acids, and tannin, it softens and loosens up keratin, imparting moisture.

Japanese Witch Hazel Water

Aromatic water obtained from Japanese witch hazel leaves by steam distillation. Since it contains tannin, it has an astringent effect, and has long been used in cosmetics. It tautens your skin and gives it an even complexion.

Lime Juice

Juice obtained by squeezing limes. Rich in components including vitamin C, citric acid, and fruit acid, it makes keratin more flexible, tautening and smoothing your skin.
THREE Balancing Stem Jelly Wash
Sale price

฿ 1,800.00
Regular price
Choose options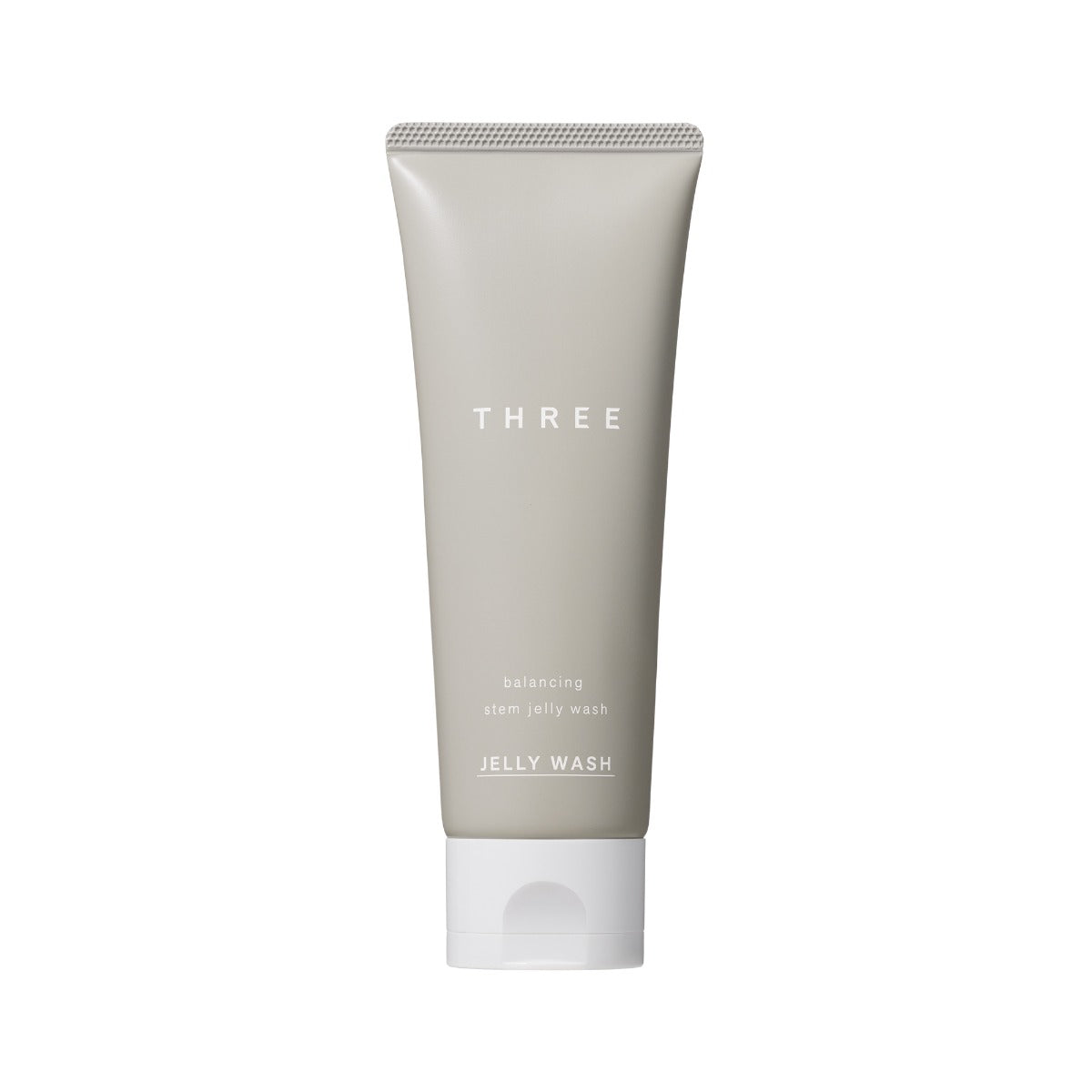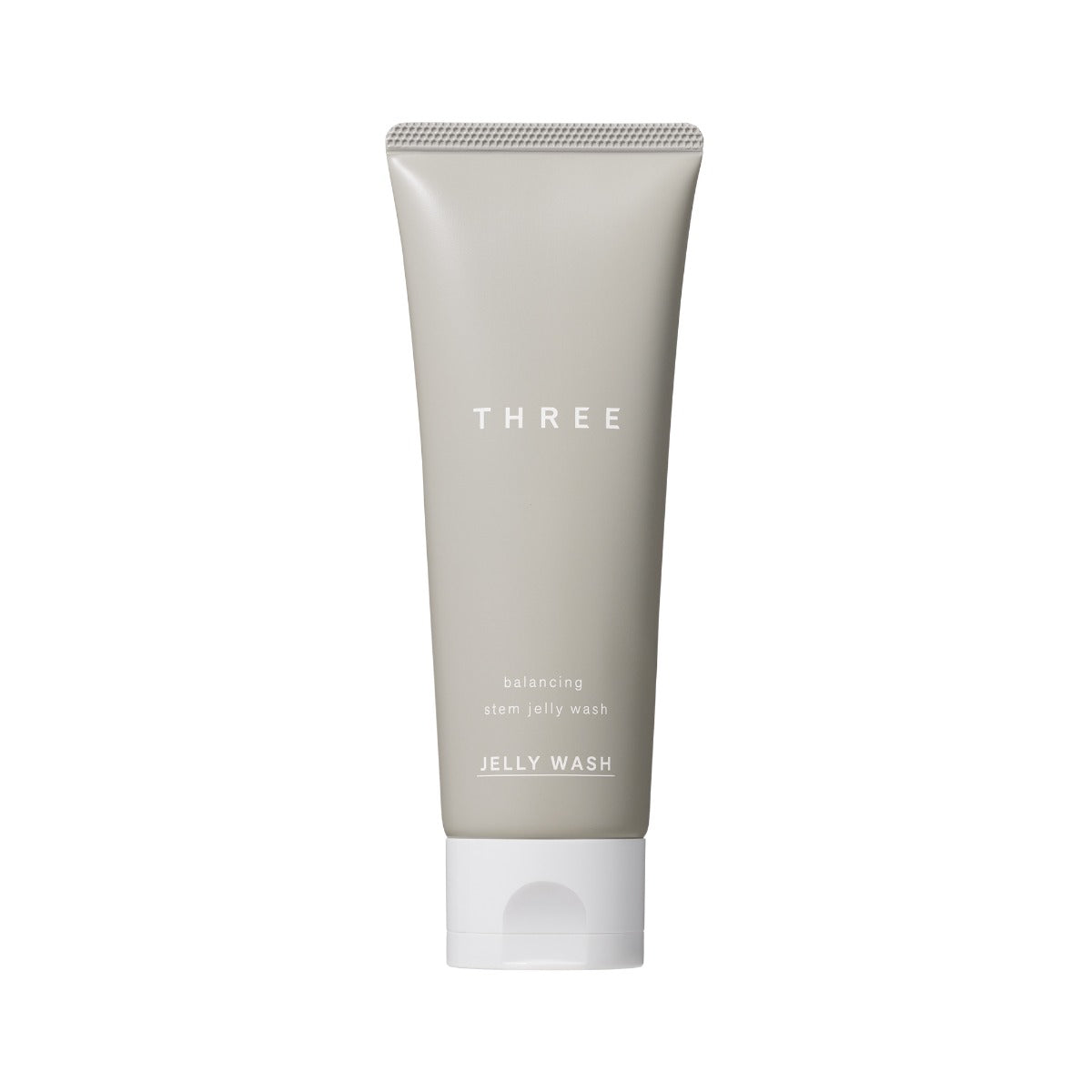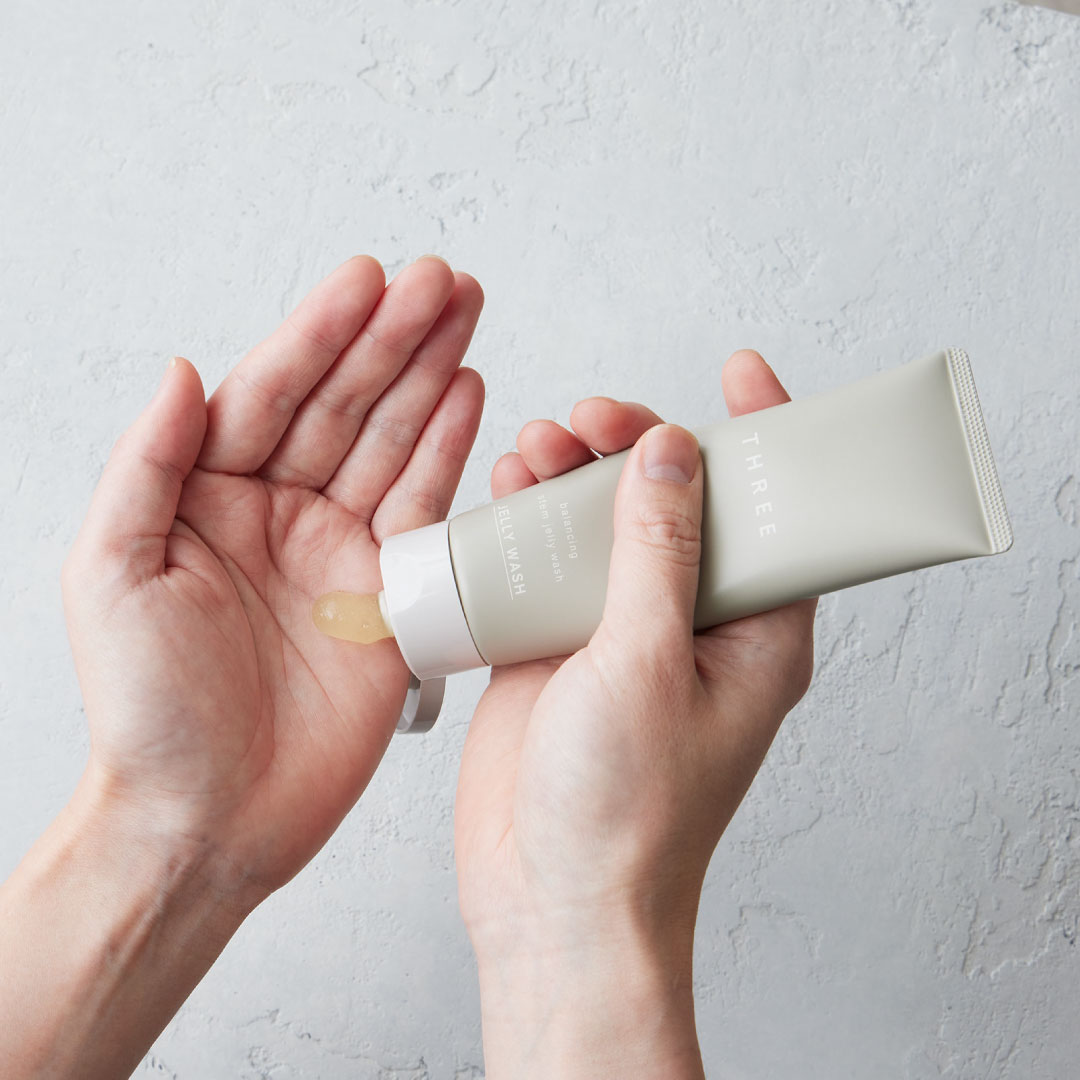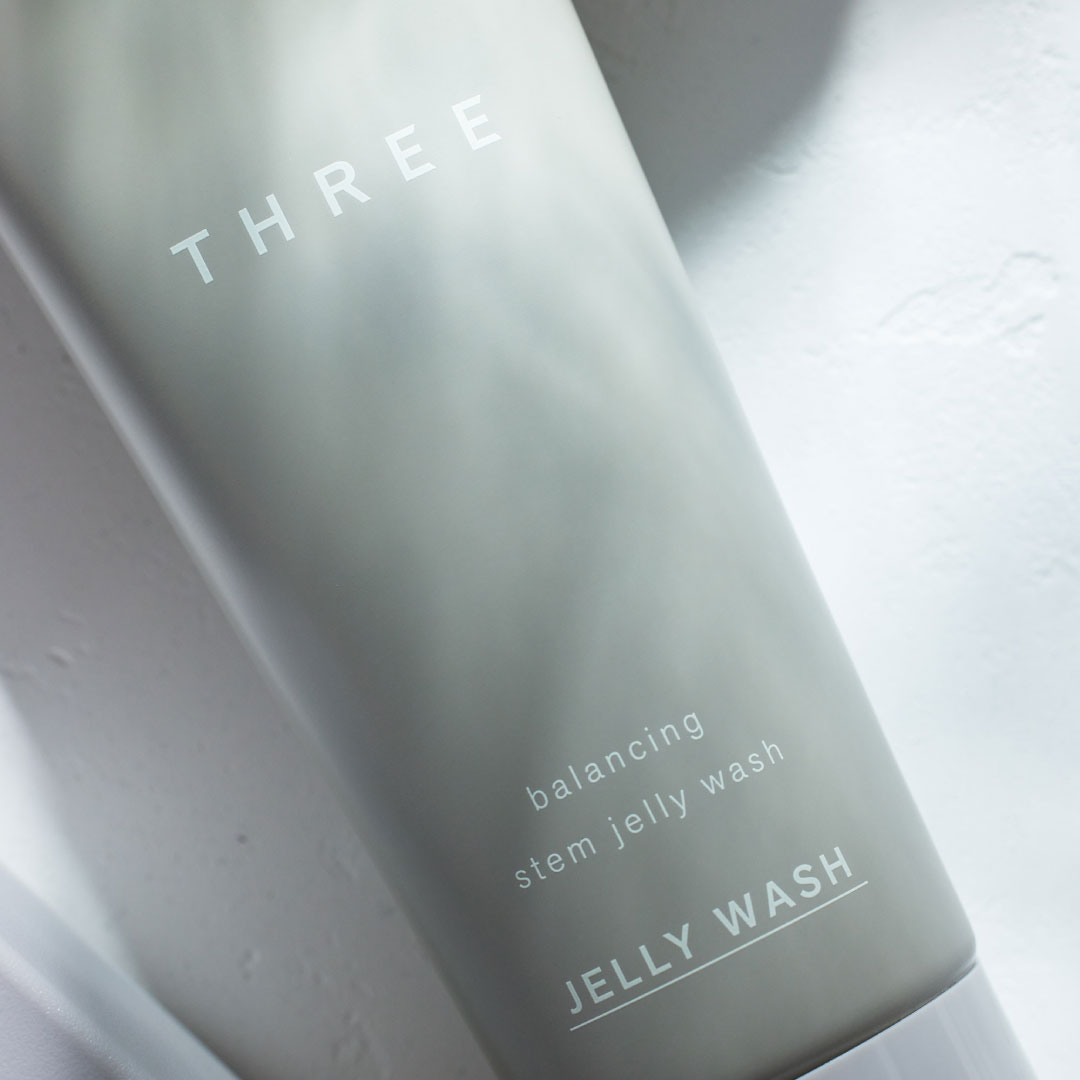 Sale price

฿ 1,800.00
Regular price
(/)
หรือ 3 งวด จาก ฿ 600.00 ด้วย
View details
INSTAGRAM
LINE UP