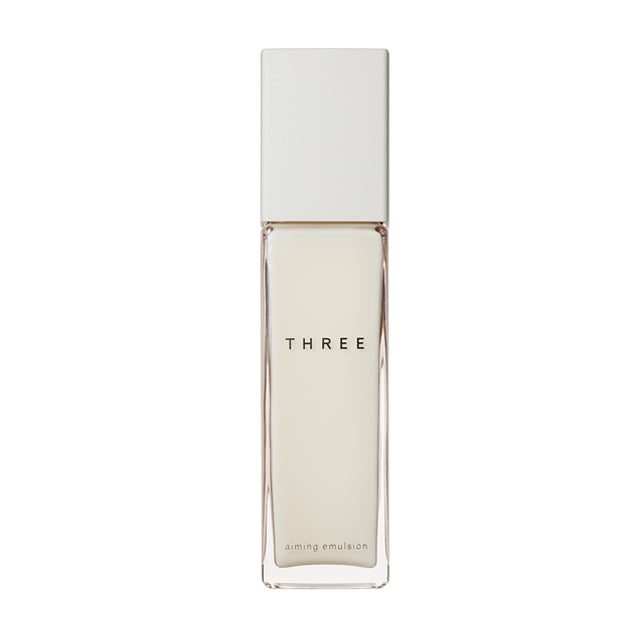 THREE Aiming Emulsion R
100 ml., 99% naturally derived ingredients
Sale price

฿ 3,900.00
Regular price
(/)
หรือ 3 งวด จาก ฿ 1,300.00 ด้วย
This organic emulsion wraps itself around your skin, and is gifted with both moisturizing and moisture retention properties at the same time.

At the same time as supplying moisture, this high-functioning emulsion is dedicated to ensuring that this moisture does not escape.

With its double care, supplying and retaining moisture, it provides a moist environment for volatile skin that is showing signs of aging.

The texture soaks easily into your skin, enfolding it profoundly and gently in moisture.

With its rapid permeability, it reaches every nook and cranny of your skin, improving its barrier function.

It tones the texture, keeping your skin plump and soft and giving it improved elasticity.

Features

●A high-performance emulsion that thoroughly focuses on moisturizing and not letting moisturize evaporate.

●A moisturizing, deep and gentle texture that blends well with the skin.It stretches comfortably and smoothly, stays in the stratum corneum for a long time without leaving stickiness, and supports water retention!

●With quick penetration, it spreads to every corner of the skin, smoothes the texture, gives a soft and fluffy bounce, and gives a feeling of elasticity like bouncing the palm.

●A slightly spicy and refreshing floral (rose) -like fragrance that melts softly to the heart.

FDA no. 10-2-6500002935
How To Use

1.Put an appropriate amount (push 2 - 3 times) onto a cotton pad

2.Press it gently into your skin, from the center of your face (center line) outwards.

3.Finally, cup your entire face with both hands, and press your skin gently so that the emulsion is absorbed.
Ingredients

WATER,CITRUS AURANTIUM DULCIS (ORANGE) FRUIT WATER,SQUALANE,GLYCERIN,BUTYLENE GLYCOL,PENTYLENE GLYCOL,OLEA EUROPAEA (OLIVE) FRUIT OIL,SIMMONDSIA CHINENSIS (JOJOBA) SEED OIL,POLYGLYCERYL-2 STEARATE,GLYCERYL STEARATE,STEARYL ALCOHOL,XANTHAN GUM,CITRUS AURANTIUM BERGAMIA (BERGAMOT) FRUIT OIL,BENZYL ALCOHOL,PELARGONIUM GRAVEOLENS FLOWER OIL,CETEARYL ALCOHOL,ROSMARINUS OFFICINALIS (ROSEMARY) LEAF OIL,PYRUS MALUS (APPLE) FRUIT WATER,SCLEROTIUM GUM,PUNICA GRANATUM SEED OIL,VACCINIUM MACROCARPON (CRANBERRY) SEED OIL,ROSA DAMASCENA FLOWER WATER,SODIUM CITRATE,PEUCEDANUM OSTRUTHIUM LEAF EXTRACT,PROPANEDIOL,ORYZA SATIVA (RICE) BRAN OIL,ROSA DAMASCENA FLOWER OIL,SODIUM BENZOATE,CITRIC ACID,CAMELLIA SINENSIS SEED OIL,FOENICULUM VULGARE (FENNEL) OIL,TOCOTRIENOLS,TOCOPHEROL,POTASSIUM SORBATE,TEPHROSIA PURPUREA SEED EXTRACT,PELVETIA CANALICULATA EXTRACT,DEHYDROACETIC ACID ※,ROSA DAMASCENA FLOWER EXTRACT,PRUNUS MUME FRUIT EXTRACT
THREE Ingredients

Damask rose extract

Ingredients extracted from organic roses (damask roses) grown on organic farms in Wakayama Prefecture. These two useful ingredients, which differ in extraction methods and characteristics, are expected to protect vulnerable skin and soften and condition it while moisturizing it.

Fennel extract

น้ำมันหอมระเหยที่สกัดได้จากเมล็ดของพืชตระกูลยี่หร่า สมุนไพรที่มีกลิ่นรสที่เผ็ดร้อนที่มอบความรู้สึกปลุก กระตุ้นพลังงานที่หลับไหลจากภายในส่งเสริมระบบการการไหลเวียน และมีคุณสมบัติในการบำบัดสุขภาพความ งดงาม

Pelvetia Extract

An extract of brown algae that grows in Brittany, France. Containing isoflavones and retinoic acid, it promises to tighten your skin, giving it a youthful appearance.

It contains isoflavones and retinol acid, supports the barrier function of the skin, and prepares the skin that tends to be disturbed.
Sale price

฿ 3,900.00
Regular price
Choose options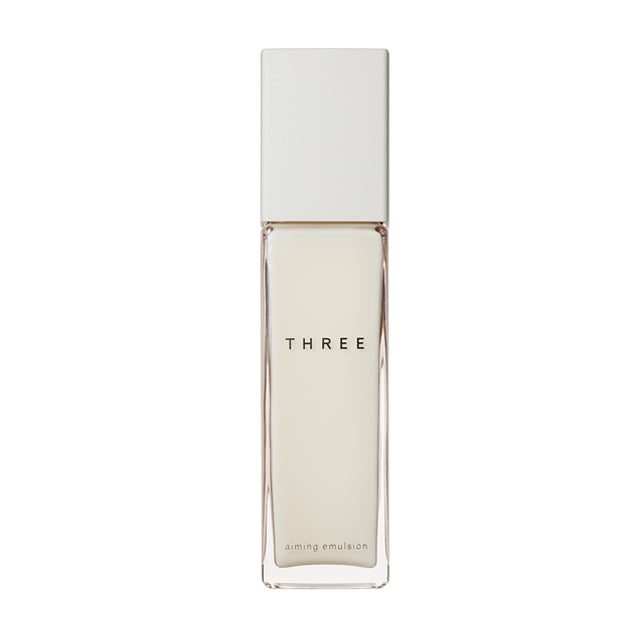 Sale price

฿ 3,900.00
Regular price
(/)
หรือ 3 งวด จาก ฿ 1,300.00 ด้วย
View details
INSTAGRAM
LINE UP