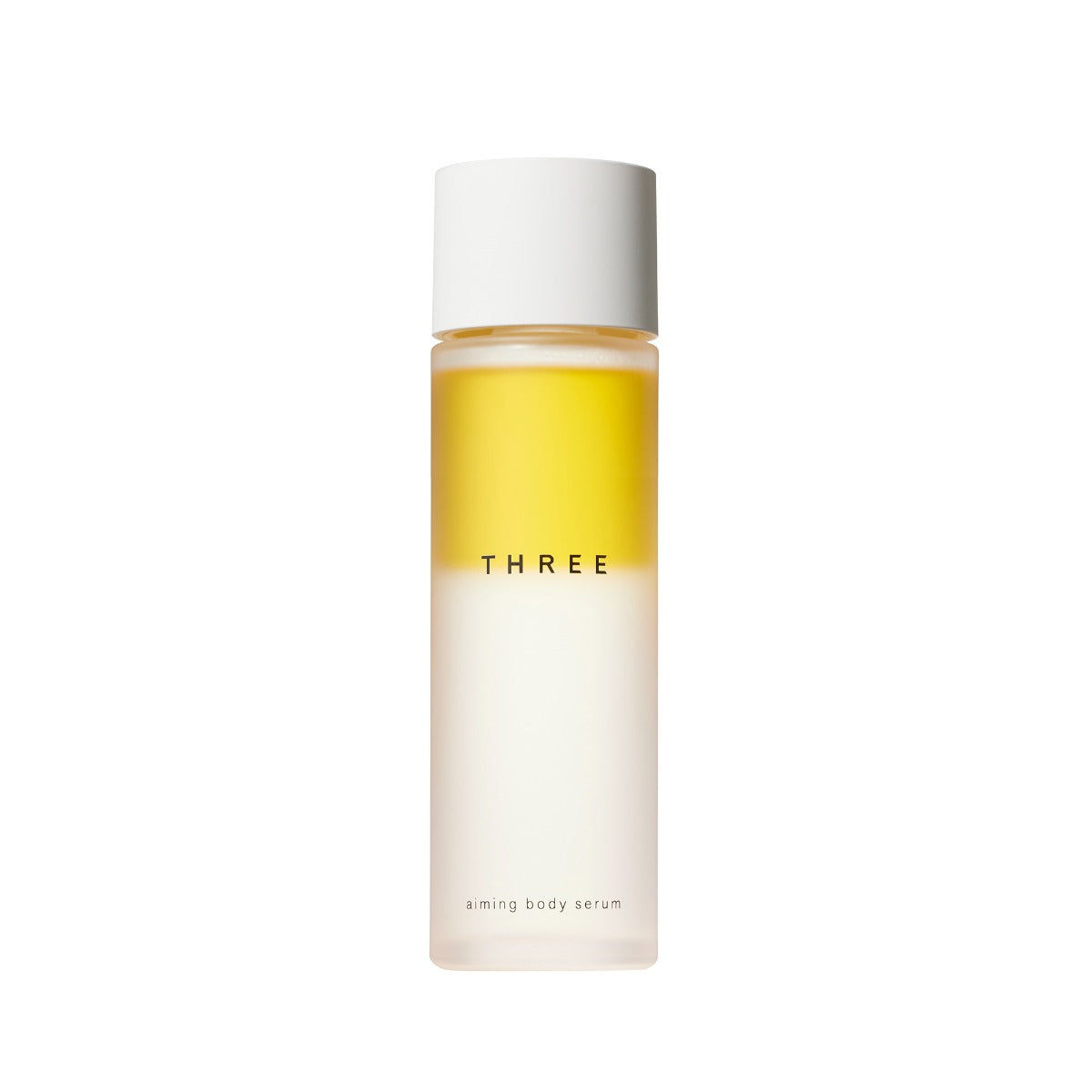 THREE Aiming Body Serum
97 ml., 99% naturally derived ingredients
Sale price

฿ 3,650.00
Regular price
(/)
หรือ 3 งวด จาก ฿ 1,216.66 ด้วย
Approaches feminine fluctuations, through the body.

A two-layer beauty serum for the body containing natural essential oils and botanical extracts, which melds with the skin and softly envelops the whole body.

Developed to offer a comfortable texture, it blends into the whole body including areas that tend to get dry or where excess sebum is produced.

Enveloping you in a sensual and euphoric aroma, the body serum softens and loosens up your mind, body, and skin, enhancing your graceful beauty every time you use it.

Features

● Exquisite texture that blends into the skin

Skin's moisture balance varies depending on the part of the body.

Mixing moisture and oil balance in a perfect balance, the two-layered serum glides on with a comfortable texture as it blends into the skin all over the body.

● For silky smooth skin

Replenished with moisture from within, the skin is left bouncy and supple, while the surface is so silky smooth that you want to touch it.

● A sensual aroma that is sweet yet deep, with a spicy accent

A blended essential oil featuring a base note of clear yet sweet rose coupled with a spicy herbal scent. The sensual aroma tempts you into an indulgence of pampering yourself.

FDA no. 10-2-6500038286
How To Use

* ใช้บนผิวสะอาดหลังอาบน้ำ
1.เขย่าบรรจุภัณฑ์ให้ทั่วและวอร์มผลิตภัณฑ์ในปริมาณที่เหมาสมลงบนฝ่ามือ
2.สำหรับนิ้วเท้าและนิ้วมือ ทาเซรัมให้ทั่วและนวดเบาๆไปทางโคนนิ้ว
3.สำหรับหน้าอก เอว และสะโพก ทาเซรัมและถูให้ซึมเข้าผิว
Ingredients

WATER,C15-19 ALKANE,CITRUS AURANTIUM DULCIS (ORANGE) FRUIT WATER,OLEA EUROPAEA (OLIVE) FRUIT OIL,ISOAMYL LAURATE,ALCOHOL,BUTYLENE GLYCOL,PENTYLENE GLYCOL,SIMMONDSIA CHINENSIS (JOJOBA) SEED OIL,GLYCERIN,DIGLYCERIN,ROSA DAMASCENA FLOWER WATER,CITRUS AURANTIUM BERGAMIA (BERGAMOT) FRUIT OIL,PELARGONIUM GRAVEOLENS FLOWER OIL,SEA SALT,ROSMARINUS OFFICINALIS (ROSEMARY) LEAF OIL,BENZYL ALCOHOL,PUNICA GRANATUM SEED OIL,DAUCUS CAROTA SATIVA (CARROT) SEED OIL,SODIUM BENZOATE,PUNICA GRANATUM FLOWER EXTRACT,SODIUM CITRATE,PROPANEDIOL,POTASSIUM SORBATE,FOENICULUM VULGARE (FENNEL) OIL,CITRIC ACID,ORYZA SATIVA (RICE) BRAN OIL,CAMELLIA SINENSIS SEED OIL,ROSA DAMASCENA FLOWER OIL,CITRUS PARADISI (GRAPEFRUIT) SEED OIL,TOCOTRIENOLS,TEPHROSIA PURPUREA SEED EXTRACT,TOCOPHEROL,BRASSICA CAMPESTRIS (RAPESEED) SEED OIL,ROSA DAMASCENA FLOWER EXTRACT,PRUNUS MUME FRUIT EXTRACT,HARUNGANA MADAGASCARIENSIS EXTRACT,POLYGONUM TINCTORIUM LEAF EXTRACT,ROSMARINUS OFFICINALIS (ROSEMARY) LEAF EXTRACT
THREE Ingredients

Damask rose water

Ingredients extracted from organic roses (damask roses) grown on organic farms in Wakayama Prefecture. These two useful ingredients, which differ in extraction methods and characteristics, are expected to protect vulnerable skin and soften and condition it while moisturizing it.

Hot spring water

<โออิตะ>
น้ำพุร้อนจากเมืองโออิตะ ที่อุดมไปด้วยกรดคาร์บอนิก และแร่ธาตุต่างๆ เช่น โซเดียม แคลเซียม และแมกนีเซียม มอบคุณสมบัติในการให้ความชุ่มชื้นที่ดีเยี่ยม ช่วยบำรุงผิวให้ยืดหยุ่น

<คาโกชิมะ>
น้ำพุร้อนจากเมืองคาโกชิมะ ประกอบด้วยอัลคาไลน์ที่แตกตัวเป็นไอออนตามธรรมชาติจากบ่อน้ำพุร้อนใต้ดินที่ซากุระจิมะ จังหวัดคาโกชิมะ โดดเด่นในด้านการช่วยให้ผิวนุ่มเป็นพิเศษ พร้อมด้วยความสามารถในการซึมซาบเข้าสู่ผิวได้เป็นอย่างดี

<โอคายามะ>
น้ำพุร้อนจากเมืองโอคายามะ เต็มไปด้วยแร่อัลคาไลน์ ช่วยทำให้ผิวนุ่ม และชุ่มชื้น แม้เป็นผิวที่แห้งกร้าน น้ำแร่มีความเข้มข้นต่ำช่วยให้ความชื้นซึมผ่านชั้นผิวได้ง่ายดาย มอบผิวเรียบเนียน และละเอียด

Harungana extract

Extract from Harungana, an endemic species of Madagascar that has a strong life force and has long been called a healing tree. It gives skin elasticity and leads to skin with a youthful appeara

Pomegranate flower extract

An extract obtained from the flowers of pomegranate, a lythraceous plant. It conditions the skin and is believed to have an emollient effect.
Sale price

฿ 3,650.00
Regular price
Choose options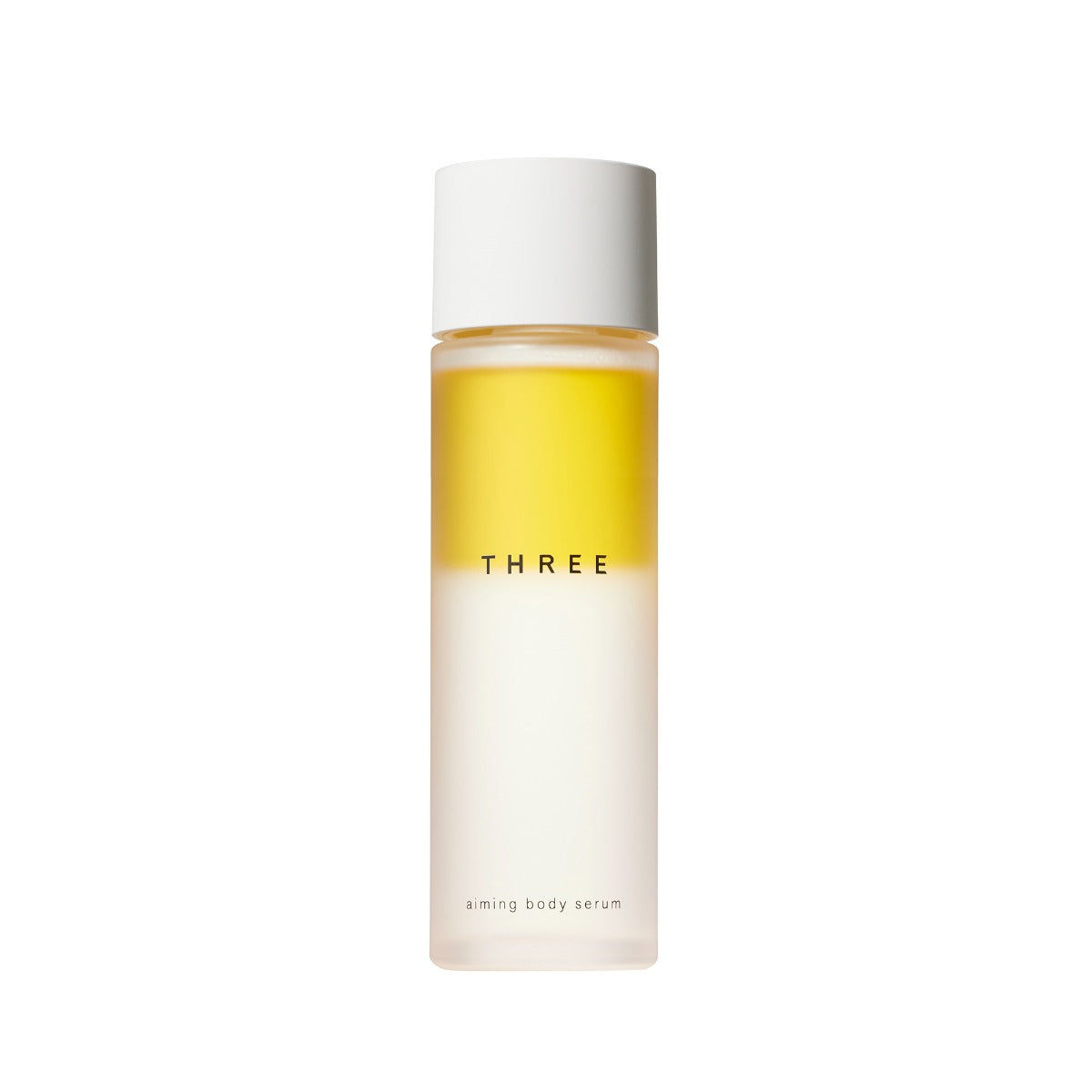 Sale price

฿ 3,650.00
Regular price
(/)
หรือ 3 งวด จาก ฿ 1,216.66 ด้วย
View details
INSTAGRAM
LINE UP