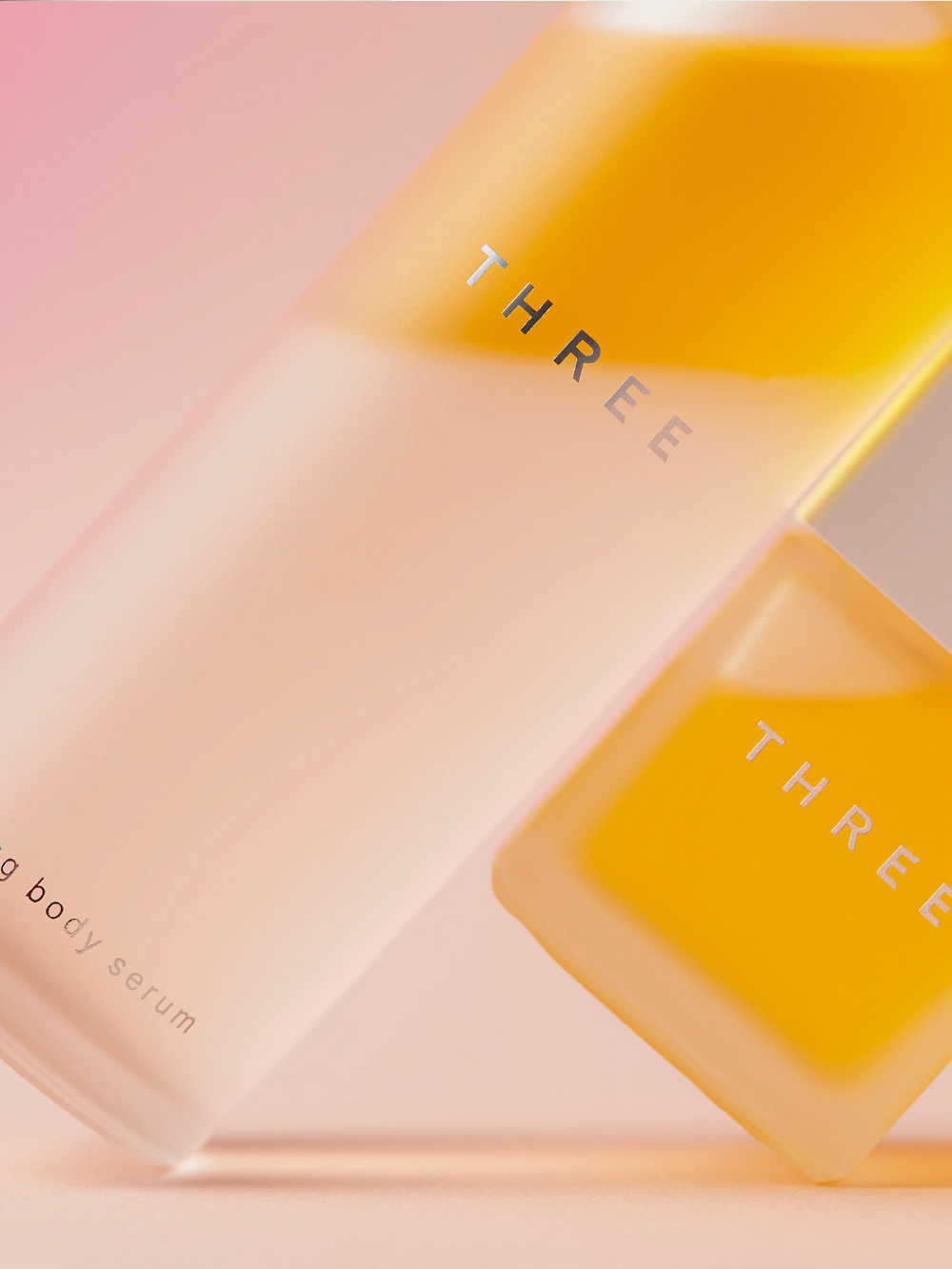 THREE Aiming Special Care
Skincare which connects aging care and beauty. Understand and adjust to subtle changes, for achieving beauty that faces forward no matter what the day brings.
Hormonal imbalance, skin turnover, the temperature and humidity of the season – affected by such elements, the "mind, body, and skin" fluctuate every month.
As well as appropriate "self-care," "recognition" for appreciating subtle changes is required to accept, understand, and adjust to monthly fluctuations that vary from person to person.
Focusing on the feminine cycle along with the rhythms of the moon, THREE AIMING debuted as an aging-care skincare* line that responds to slight changes in the rhythms that you sense yourself.
The advanced Facial Oil Essence and Body Serum that will be added to the Aiming line are set to become indispensable items that follow your "mind, body, and skin" in any condition and uplift them comfortably.
Approaching the lack of firmness and elasticity, they plump and deeply hydrate the skin, while enhancing the body's natural curves. You will want to keep on touching your skin.
Featuring a high affinity to the skin and an exquisitely melty texture, it comforts and relaxes you as soon as applied.
For a day of fluctuations, as well as any other day. Face forward and keep your passion for beauty alive by tuning your mind, body, and skin for what you feel comfortable with.
* Meaning age-appropriate skincare
THREE BODY SERUM
97ml / Price 3,650 THB
The body is a mirror reflecting the whole body. This is a special serum for the body that polishes it up shiny.​Controls stresses on the complex skin of the whole body, such as acne on the back and dryness on the shins, which vary from area to area.​​​​​
This two-layer type serum deeply penetrates the skin's stratum corneum with rich moisture from the water layer, and envelops it in a veil of comfortable oil layer.​It provides moisture, firmness, and elasticity while making the skin as smooth as silk, and it also responds to the changing feelings of a month. It also regulates your motivation.​
THREE AIMING FACIAL OIL ESSENCE R
30ml / Price 5,800 THB
High-quality, naturally-derived oil-soluble ingredients spread smoothly on the surface of the skin, suppressing the evaporation of water from the skin, keeping it moisturized, and making it soft and elegant.​Control skin stress with high moisturizing power and protective power, and have a comfortable month with a stable mind, body and skin.​​​​​​
An oily beauty essence that spreads smoothly while giving off a sensual and spicy fragrance that resonates with the skin's instincts, and blends into the skin. Achieves synergies of moisturizing and protective power unique to oil.​​
The skin is smooth and comfortable, and the skin is supple and bouncy.​​
Common ingredients used for the two products
---
Carrot seed oil
An organic ingredient obtained from carrot seeds using the cold process. It is a carrier oil that is readily absorbed into the skin with a fluid texture, which is used as an emollient ingredient. It keeps the skin supple with a soft texture. Indigo leaf extract

An extract obtained from the leaves of indigo, an annual plant of the Polygonaceae family that is well known for indigo dyeing, It supports the skin barrier function and soothes imbalanced skin.


Essential oils
Rose oil/ Fennel oil/ Rosemary oil/ Geranium oil/ Bergamot Fruit Oil


Botanical oils
Carrot seed oil/Sea buckthorn oil/Pomegranate seed oil/Jojoba oil/Olive oil/Tea seed oil/Field mustard seed oil/Rice bran oil.


Extracts
Cymbidium flower extract /Indigo leaf extract /Licorice root extract//Althaea officinalis root extract /Rice bran extract/Damask rose extract/Tephrosia purpurea seed extract/Prunus mume fruit extract


Botanical & Mineral Water
Damask rose water/Spring water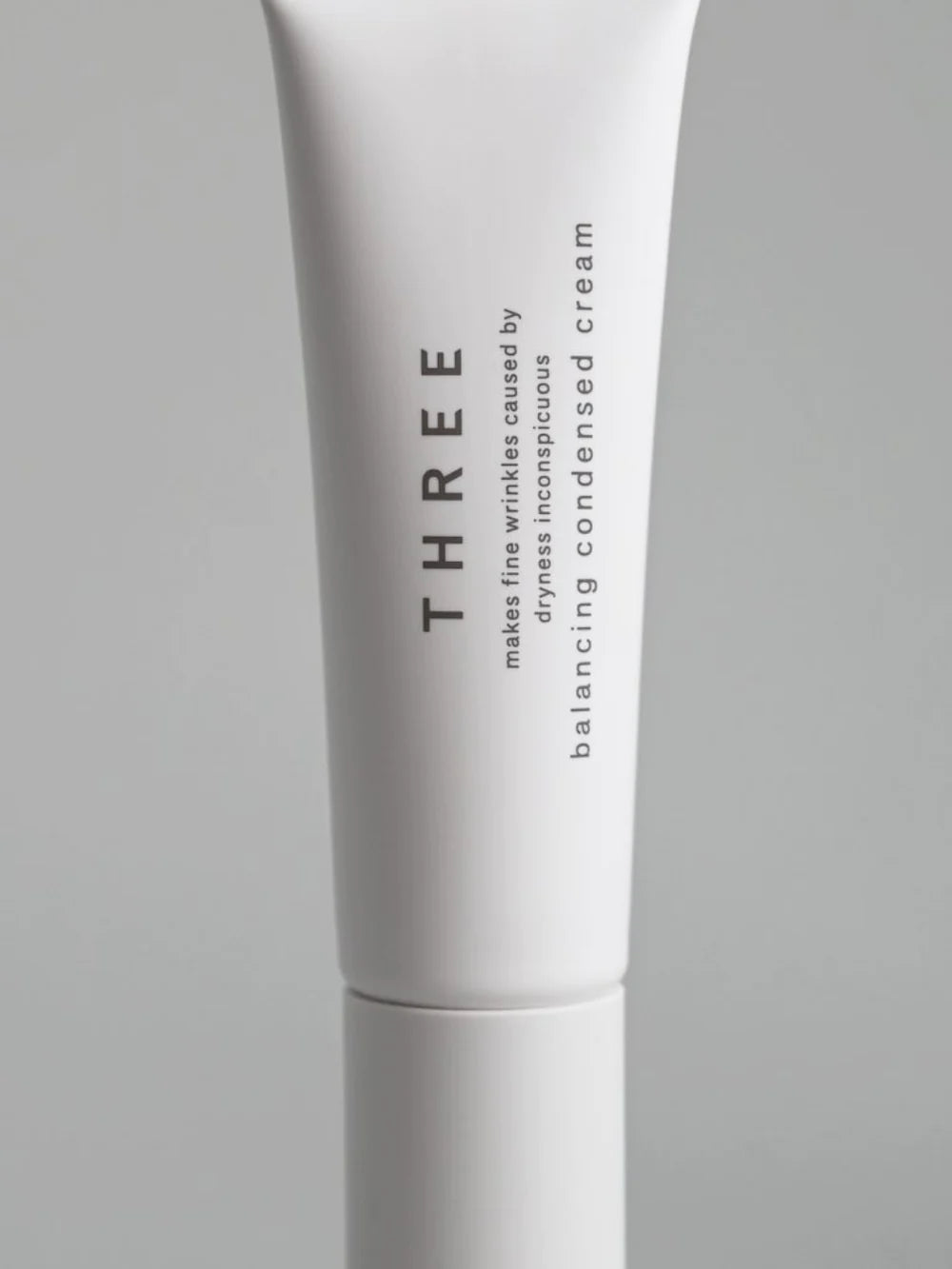 SKINCARE
THREE Balancing Condensed Cream
Generously infuses the eyes and mouth with essences of the earth, which are absorbed by "roots." Generously infuses the eyes and mouth with essences of the earth, which are absorbed by "roots." Cre...
Read more