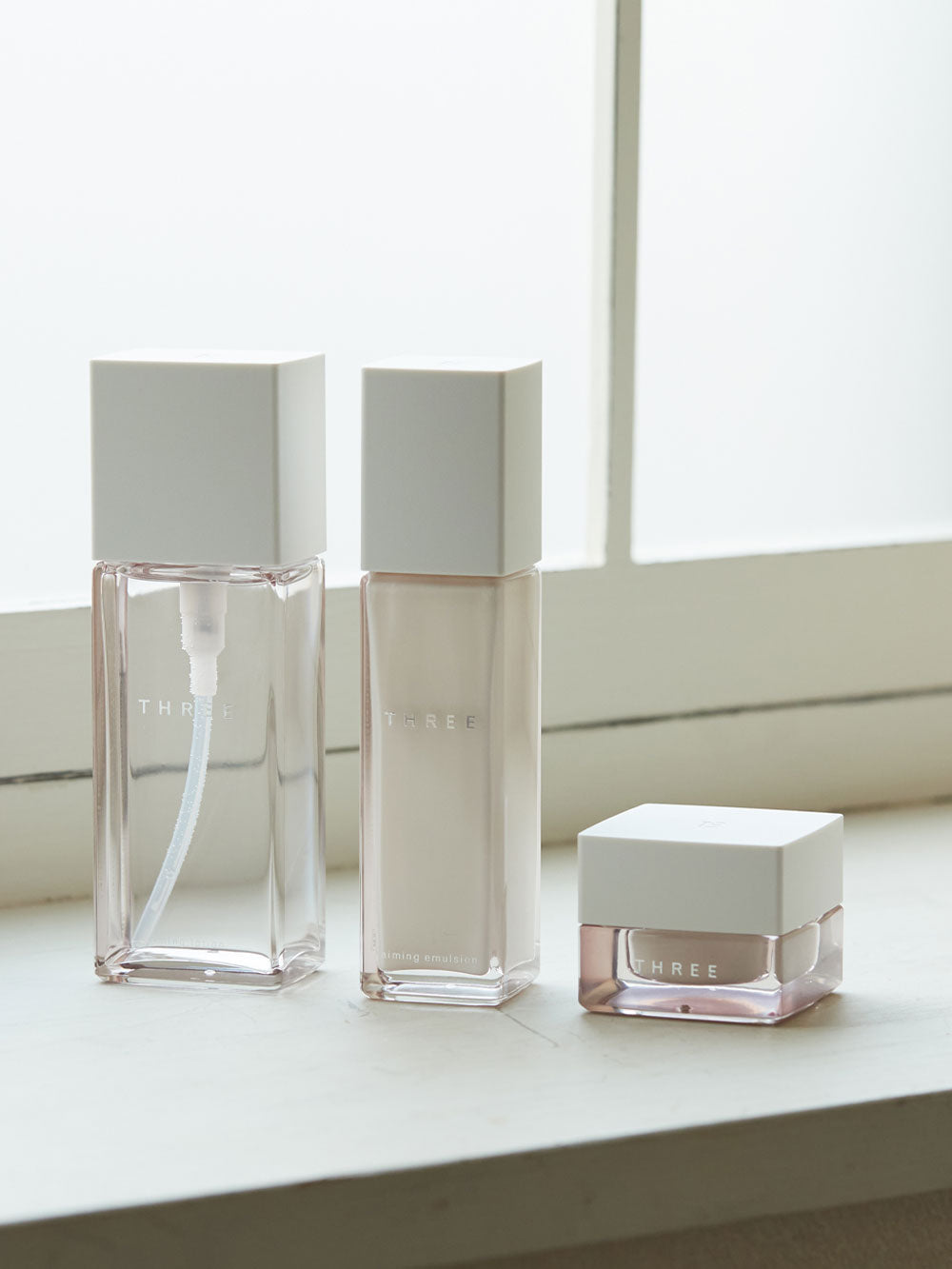 THREE Aiming R
Skin care that connects aging and beauty. THREE Aiming Renewal.
For skin that is full of firmness and full of fulfillment.​ Finely moisturized, plump skin.​​​
Clear and bright skin that gives off luster from the inside.​ Contrary to the beauty we can have,​​
With age, the skin tends to move away from what it should be.​ One of the reasons is​ The fluctuation of "female-specific skin rhythm"​ THREE thought.
Instability that occurs in the mind and body due to the effects of skin cycle and aging.​
Due to busy days, things are getting worse little by little.​
Be close to these worries that many women are experiencing.​
THREE's aging skin care has been renewed.​
Focusing on the relationship between "beauty" and "rhythm" in the skin of matured women, we deliver a deeper sense of fulfillment to the mind, body, and skin.​
Organic damask rose blooms,​ Being struck by the transparent scent.​
Every time you stare and touch, you will love the skin that we want to be.​

INGREDIENTS
---
Fennel fruit extract​
An extract obtained from the fruit of the perennial fennel of the Umbelliferae family. It is effective for improving rough skin, moisturizing effect, improving translucency, brightening effect, and aging care.​​


Pelargonium Graveolens Flower Oil​​
It is a key essential oil of THREE holistic care items, and is said to approach the connection between the nervous system and the endocrine system. It is one of the essential oils with excellent anti-inflammatory effect, and is especially useful for improving skin disorders such as acne, eczema, and rough skin.​​


Rosmarinus Officinalis (Rosemary) Leaf Oil​
One of the three essential oils for rejuvenation.​
UV damage and epidermis repair effects are THREE's unique knowledge.​In addition to strengthening brain functions such as improving concentration and memory, it also tightens the skin and prevents swelling on the face line.​​​


Rosa Damascena Flower Oil​​
Key essential oil of Aiming line​
In addition to the effect on female hormone balance, it has excellent moisturizing effect, antibacterial effect, blood flow improvement, and anti-allergy effect for a beautiful skin. In addition, the deodorant effect helps eliminate unwanted​​​
​​
Citrus Aurantium Vergamia (Bergamot) Fruit Oil​​​
It is a key essential oil of THREE holistic care items, and is said to approach the connection between the nervous system and the endocrine system. Although it is a citrus essential oil, it has herbal characteristics and is suitable for all skin symptoms such as sterilization / disinfection, anti-inflammatory, anti-infection, wound healing, and many other effects.​​​
PRODUCT
---
THREE AIMING SOFT CLEANSING GEL R​
85g / Price 2,300 THB

ผลิตภัณฑ์ทำความสะอาดผิวหน้าในรูปแบบของ "Soft cleansing gel" เจลใสโปร่งแสงที่นุ่มนวลไปด้วยส่วนผสมอันอ่อนโยนจากธรรมชาติ ตรงเข้าทำความสะอาดผิวพรรณไปพร้อมกับการคลายความกังวลของจิตใจ ทำลายกำแพงแห่งความเครียด เพื่อให้ผิวได้เปิดรับช่วงเวลาแห่งการบำรุง มอบผลลัพธ์ผิวที่สะอาดและบริสุทธิ์พร้อมสัมผัสได้ถึงความอ่อนนุ่มของผิวพรรณอีกครั้ง
THREE AIMING SOAP R
80g / Price 1,900 THB

An organic soap that gently cleanses the fluctuating skin brought about by the rhythm peculiar to women and keeps the condition where adult acne and rough skin are likely to occur.​​
THREE AIMING LOTION R
140ml / Price 3,400 THB
For the stratum corneum of the skin, ​ where you cannot moisturize yourself and keep it moisturized.​ Creates a foothold for the skin that has begun to fluctuate, prepares it for mature skin, accelerates recovery from irritation and inflammation, and makes the skin look beautiful and bright.​​
THREE AIMING EMULSION R
100ml / Price 3,900 THB
Focus on the moist condition of the skin, which is anxious about aging signals.​It provides water retention and moisturization at the same time, ​smoothes the texture, and strengthens the barrier function of the skin.​Gives suppleness and firmness, keeps moisture for a long time, ​ and leaves skin soft and elastic.​​​
THREE Aiming Cream R
25g / Price 5,200 THB
Aging signal-compatible finishing cream prevents waste products from accumulating and repairs and regenerates the skin.​ While gently caring for the fluctuations of the skin peculiar to women, deeply moisturizes and brings firmness and elasticity to the skin.​Leads to clear, refreshing and smooth-textured skin​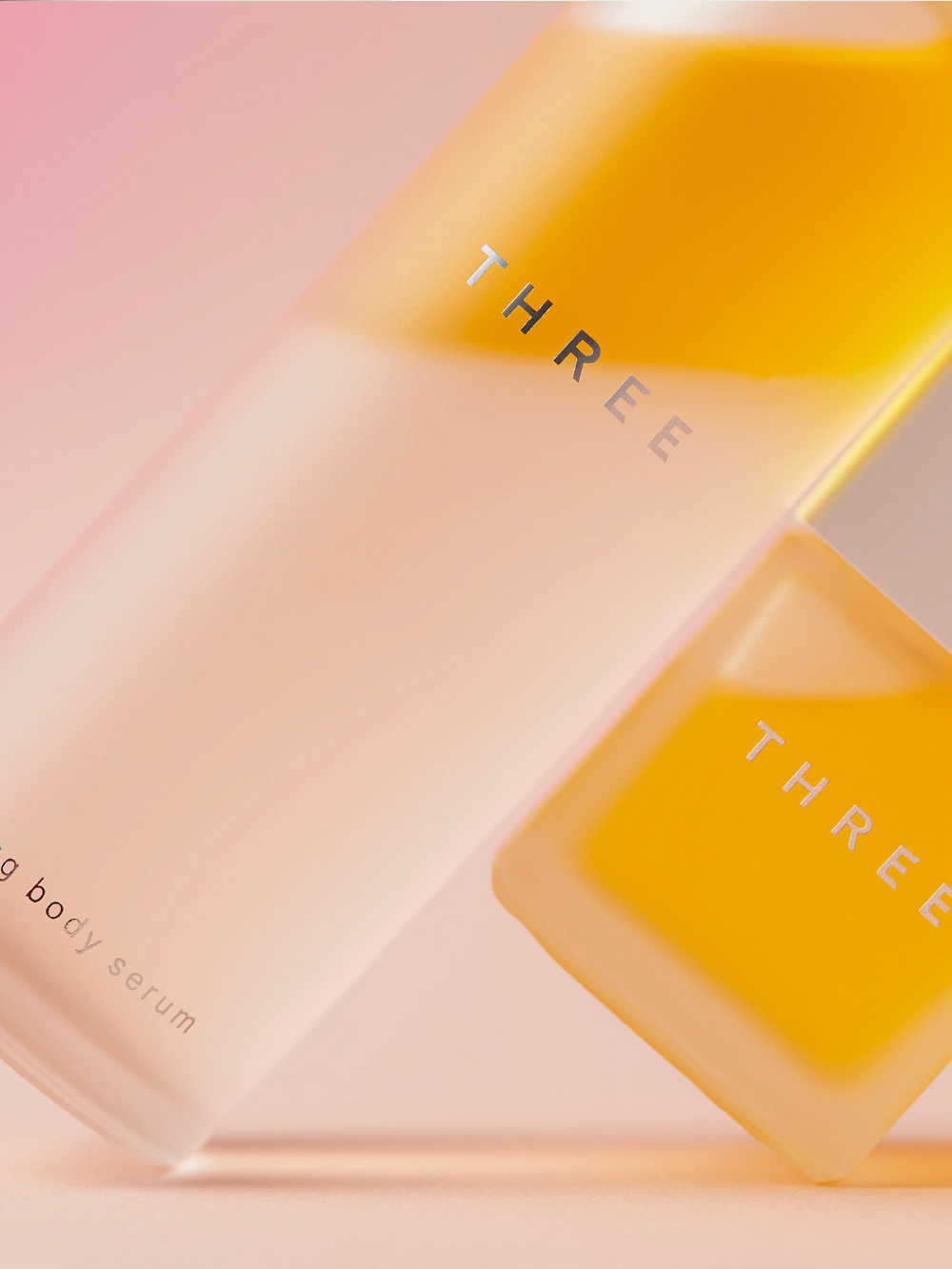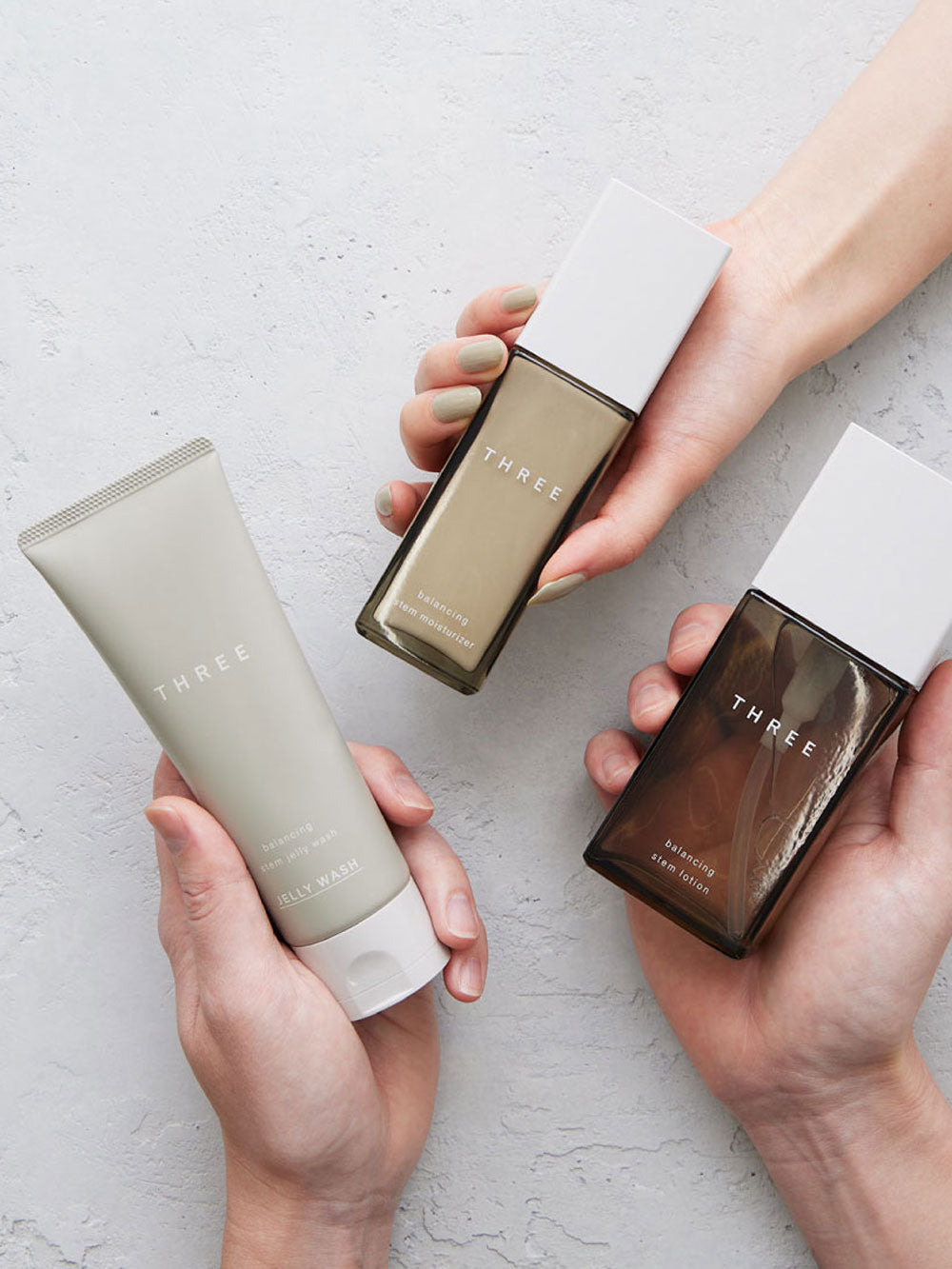 SKINCARE
Refining and toning with the purity of herbs Balancing Stem focuses on the relationship between the skin's ability to be reborn and the pores. Rosalina oil, which is used intensively in Australia, ...
Read more