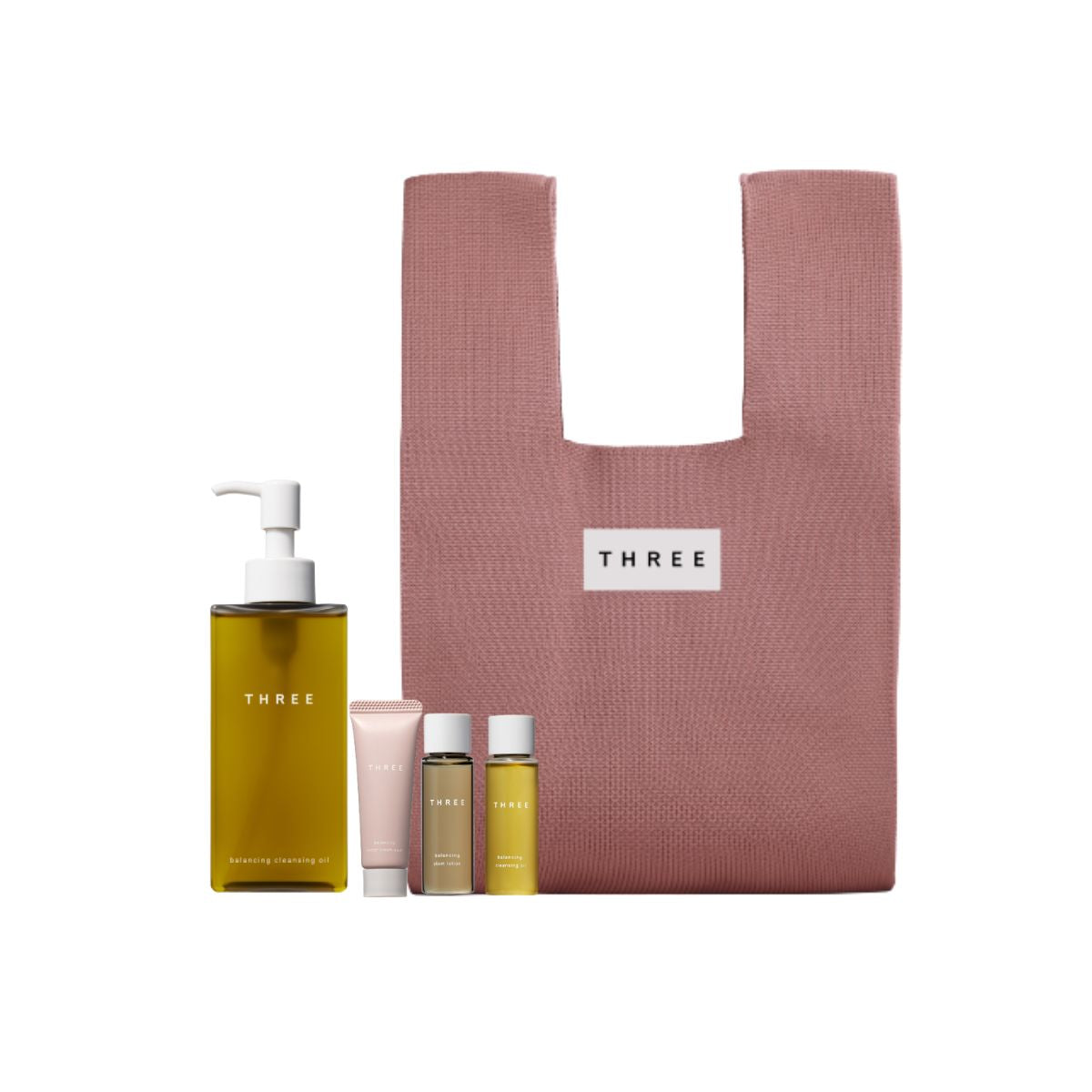 THREE The Perfect Cleansing Care
Sale price

฿ 2,000.00
Regular price
(/)
หรือ 3 งวด จาก ฿ 666.66 ด้วย
The set includes :
1.THREE Balancing Cleansing Oil N185mL x1 pcs.
2.THREE Balancing Cleansing Oil N10mL
3.THREE Balancing Nectar Cream Wash 8g x1 pcs.
4.THREE Balancing Stem Lotion 10mL pcs.
5.THREE Knitted bag x1 pcs.
How To Use

1.Pump 3 - 4 times onto dry hands.

2.Taking time to enjoy the aromatic scents.

3.Apply on 5 places: chin, cheeks, nose, and forehead. Cover the nose with both hands and spread the oil in a circular motion from the center of your face outward.

4.Rinse thoroughly with cool or lukewarm water. Then, wash your face with facial wash.
THREE Ingredients

Saffron & Burdock Complex

THREE ผสาน 2 ส่วนผสมที่ผลิตขึ้นภายในประเทศญี่ปุ่น อย่างหญ้าฝรั่น (Saffron) และโกโบ (Burdock) ซึ่งอุดมได้วยคุณสมบัติมากมาย มอบความชุ่มชื้น และความสดชื่นให้แก่ผิว โดยหญ้าฝรั่น (Saffron) ถูกเก็บเกี่ยวในจังหวัดโออิตะ ประเทศญี่ปุ่น ซึ่งเป็นจังหวัดที่ขึ้นชื่อในการผลิตแซฟฟรอนคุณภาพสูง หลังจากที่เกสรดอกไม้ถูกนำไปทำเป็นเครื่องเทศ กลีบของดอกแซฟฟรอนจะถูกนำมาสกัดผ่านกระบวนการ Upcycle เพื่อสกัดมาเป็นส่วนผสมหลัก

Tea Seed Oil

Focusing on the power of "tea berries" produced in Makinohara, Shizuoka Prefecture, where only the leaves were utilized as tea leaves and left to be discarded, THREE analyzed and clarified the characteristics and composition of this oil. The tea leaves are hand-picked one by one and carefully collected by the pressing method over a long period of time, so the excellent composition of linoleic acid and oleic acid, which are essential fatty acids for the human body, are not destroyed in the extraction process, and the oil has a high emollient effect. It is used in most of THREE's products. Moisturizing and softening ingredients, emollient ingredients

Orange Peel Oil

A naturally derived cleansing ingredient rich in limonene, which acts to dissolve oily dirt.
THREE The Perfect Cleansing Care
Sale price

฿ 2,000.00
Regular price
Choose options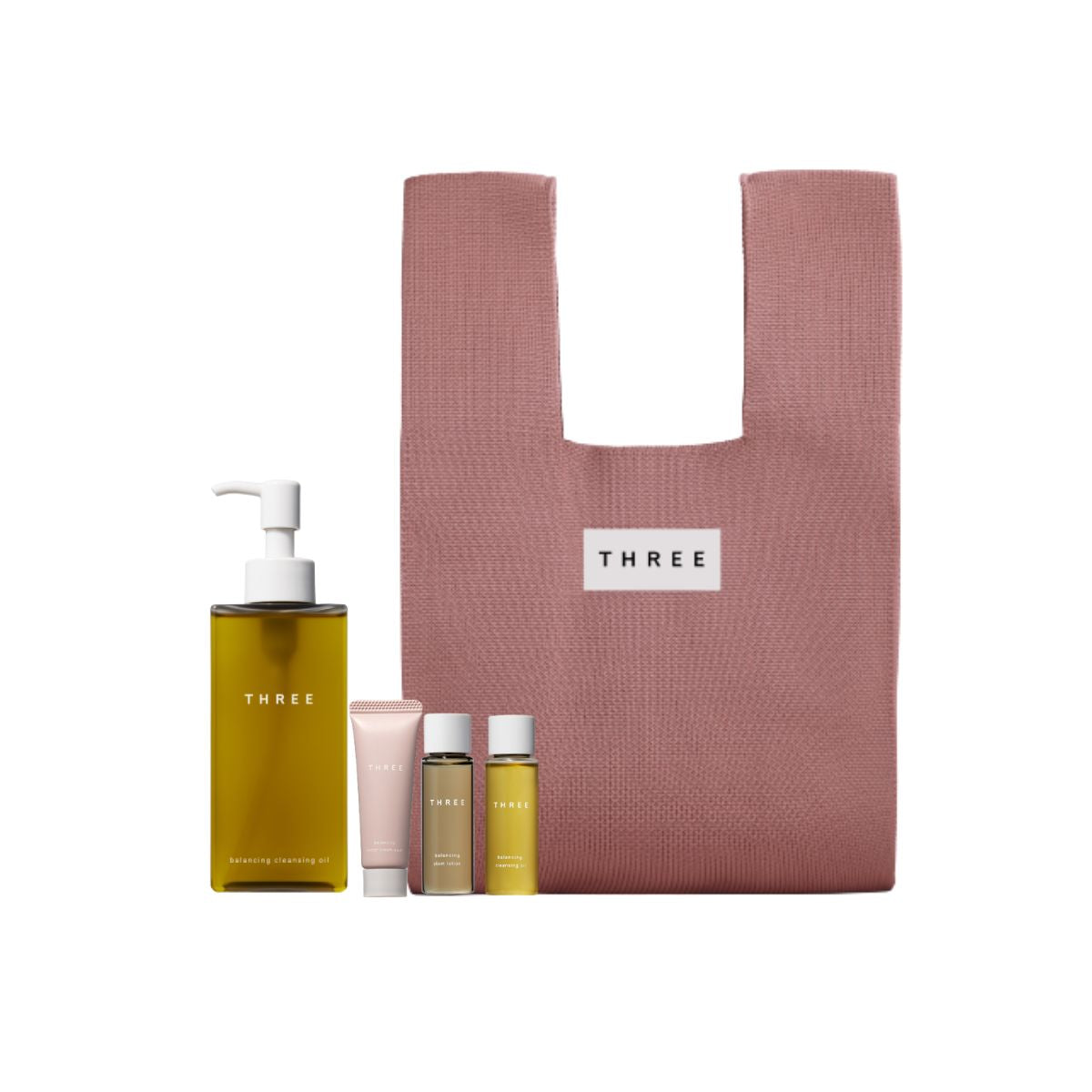 Sale price

฿ 2,000.00
Regular price
(/)
หรือ 3 งวด จาก ฿ 666.66 ด้วย
View details
INSTAGRAM
LINE UP