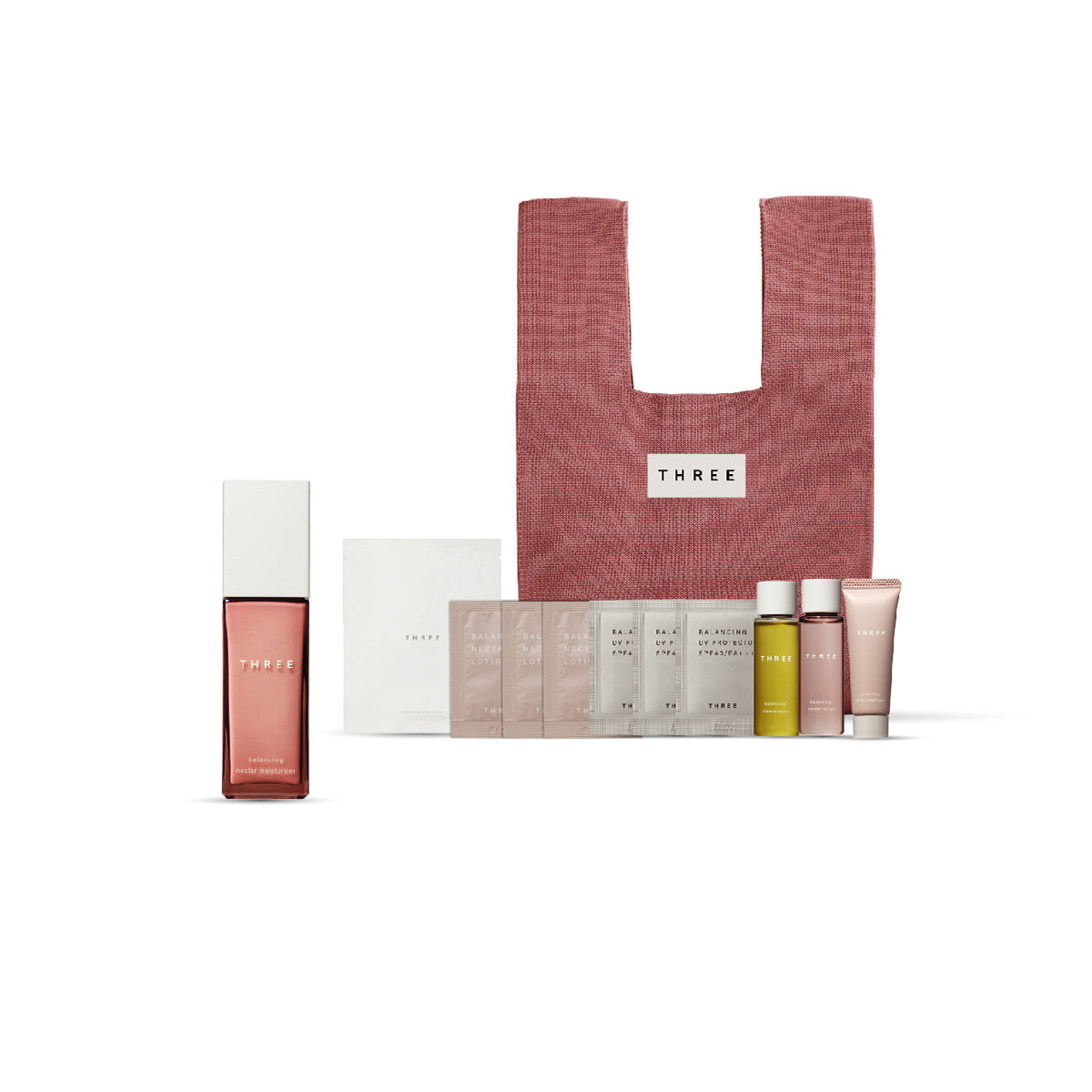 THREE The Holistic Hydration Duo
Sale price

฿ 3,000.00
Regular price
(/)
หรือ 3 งวด จาก ฿ 1,000.00 ด้วย
The set includes :
1.Balancing Nectar Moisturizer 80ml 1 pcs.
2.Balancing UV Protector R 3 pcs.
3.Balancing Nectar Lotion 1.5ml 3 pcs.
4.THREE Knitted bag 1 ชิ้น
5.THREE Balancing Spa Sheet Mask 1 pcs.
6.Balancing Cleansing Oil N10ml 1 pcs.
7.Balancing Nectar Cream Wash 8g 1 pcs.
8.Balancing Nectar Lotion 8ml 1 pcs.
How To Use

1.Dispense 2 to 3 pumps on a hand. Taking time to enjoy the aromatic scents

2.ค่อยๆ ทาโลชั่นลงบนผิวจากบริเวณกึ่งกลางใบหน้าออกไปด้านนอก

3.Wrap your entire face with both hands.
THREE Ingredients

Saffron & Burdock

THREE ผสาน 2 ส่วนผสมที่ผลิตขึ้นภายในประเทศญี่ปุ่น อย่างหญ้าฝรั่น (Saffron) และโกโบ (Burdock) ซึ่งอุดมได้วยคุณสมบัติมากมาย มอบความชุ่มชื้น และความสดชื่นให้แก่ผิว โดยหญ้าฝรั่น (Saffron) ถูกเก็บเกี่ยวในจังหวัดโออิตะ ประเทศญี่ปุ่น ซึ่งเป็นจังหวัดที่ขึ้นชื่อในการผลิตแซฟฟรอนคุณภาพสูง หลังจากที่เกสรดอกไม้ถูกนำไปทำเป็นเครื่องเทศ กลีบของดอกแซฟฟรอนจะถูกนำมาสกัดผ่านกระบวนการ Upcycle เพื่อสกัดมาเป็นส่วนผสมหลัก

Borage Oil

Oil from the seeds of the blue-flowered borage plant. This vegetable oil is rich in gamma-linolenic acid, which is also found in breast milk, and is used as an emollient for dry or sensitive skin. It gives skin smoothness, elasticity, and softness.

Acai fruit extract

Extract from the fruit of the acai palm. Rich in polyphenols and minerals, it also contains unsaturated fatty acids, making it a super fruit. It gives moisture and firmness to the skin, and makes it more vibrant and toned.
THREE The Holistic Hydration Duo
Sale price

฿ 3,000.00
Regular price
Choose options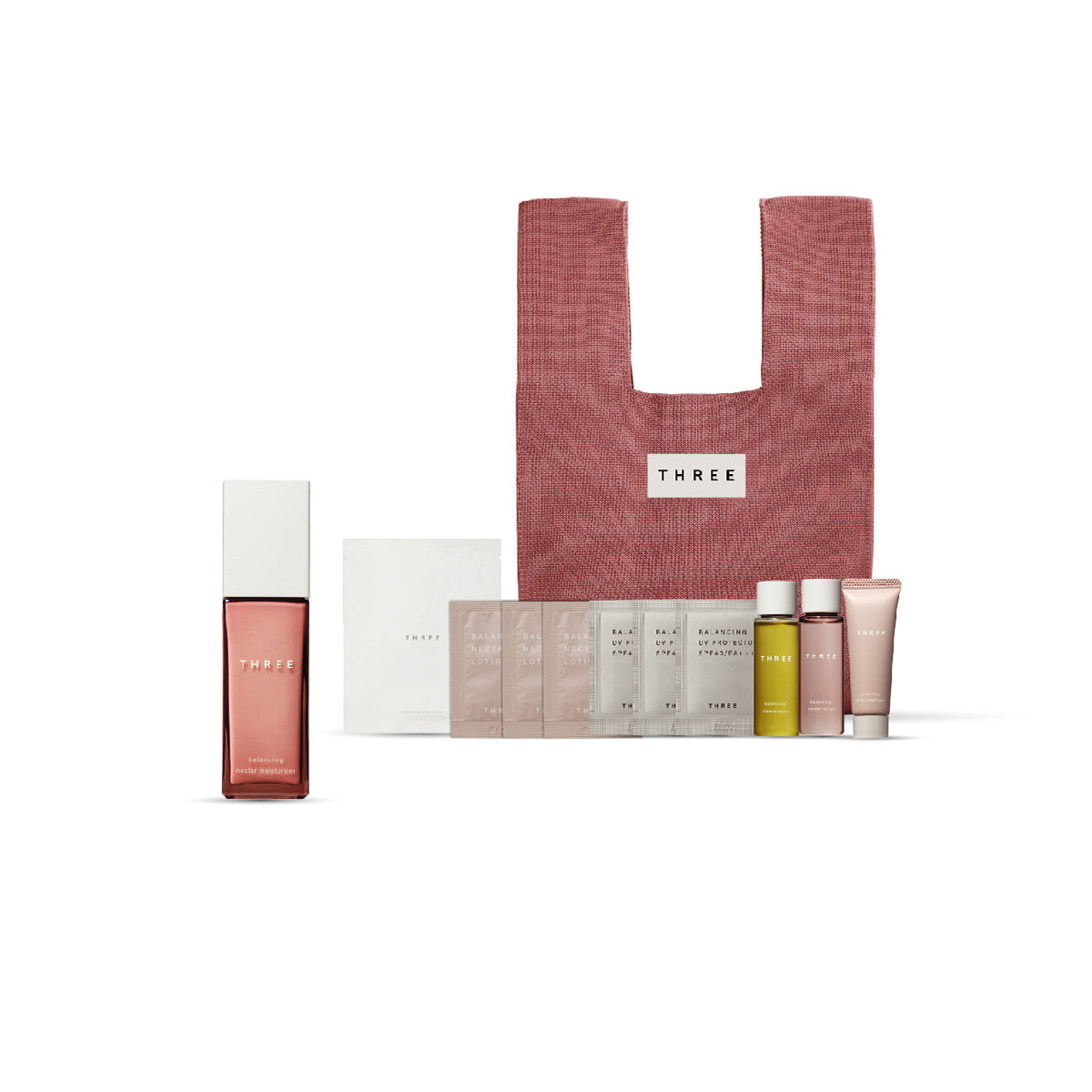 Sale price

฿ 3,000.00
Regular price
(/)
หรือ 3 งวด จาก ฿ 1,000.00 ด้วย
View details
INSTAGRAM
LINE UP