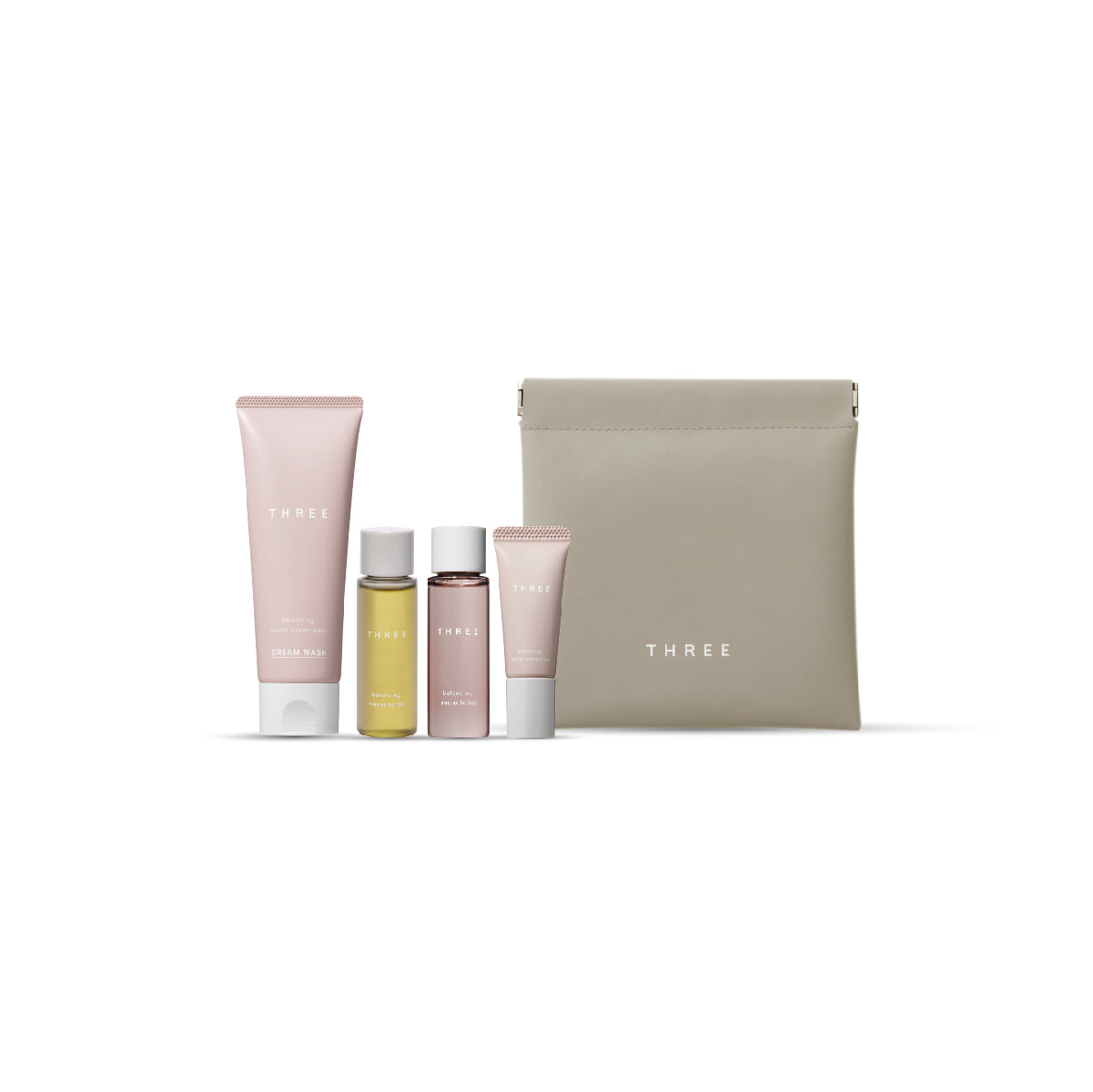 THREE Mini Glowing Skin set
Sale price

฿ 1,800.00
Regular price
(/)
หรือ 3 งวด จาก ฿ 600.00 ด้วย
The set includes :
1.THREE Balancing Nectar Cream Wash G 100g 1 pcs.
2.Balancing Cleansing Oil N10ml 1 pcs.
3.THREE Flat Multi Pouch 1 pcs.
4.Balancing Nectar Lotion 10ml 1 pcs.
5.Balancing Nectar Moisturizer 8ml 1 pcs.
How To Use

1.ล้างทั่วใบหน้าด้วยน้ำเย็น หรือน้ำอุ่น ใช้มือที่เปียกถูเนื้อครีมโฟมให้เกิดฟอง

2.Place the foam on 5 places: chin, cheeks, nose, and forehead.

3.Taking time to enjoy the aromatic scents, spread the foam on the entire face in a circular motion from the center of your face outward. Wash gently without rubbing.

4.Rinse thoroughly with cool or lukewarm water.
THREE Ingredients

Saffron & Burdock

THREE ผสาน 2 ส่วนผสมที่ผลิตขึ้นภายในประเทศญี่ปุ่น อย่างหญ้าฝรั่น (Saffron) และโกโบ (Burdock) ซึ่งอุดมได้วยคุณสมบัติมากมาย มอบความชุ่มชื้น และความสดชื่นให้แก่ผิว โดยหญ้าฝรั่น (Saffron) ถูกเก็บเกี่ยวในจังหวัดโออิตะ ประเทศญี่ปุ่น ซึ่งเป็นจังหวัดที่ขึ้นชื่อในการผลิตแซฟฟรอนคุณภาพสูง หลังจากที่เกสรดอกไม้ถูกนำไปทำเป็นเครื่องเทศ กลีบของดอกแซฟฟรอนจะถูกนำมาสกัดผ่านกระบวนการ Upcycle เพื่อสกัดมาเป็นส่วนผสมหลัก

Peony Root Extract

Extract from roots of peony, which belongs to Paeoniaceae. Soothes the skin, prevents skin troubles, and leads to transparent skin.

Rehmannia Extract

Extract from roots of Rehmannia, which belongs to Scrophulariaceae. Leads to beautifully hydrated translucent skin.
THREE Mini Glowing Skin set
Sale price

฿ 1,800.00
Regular price
Choose options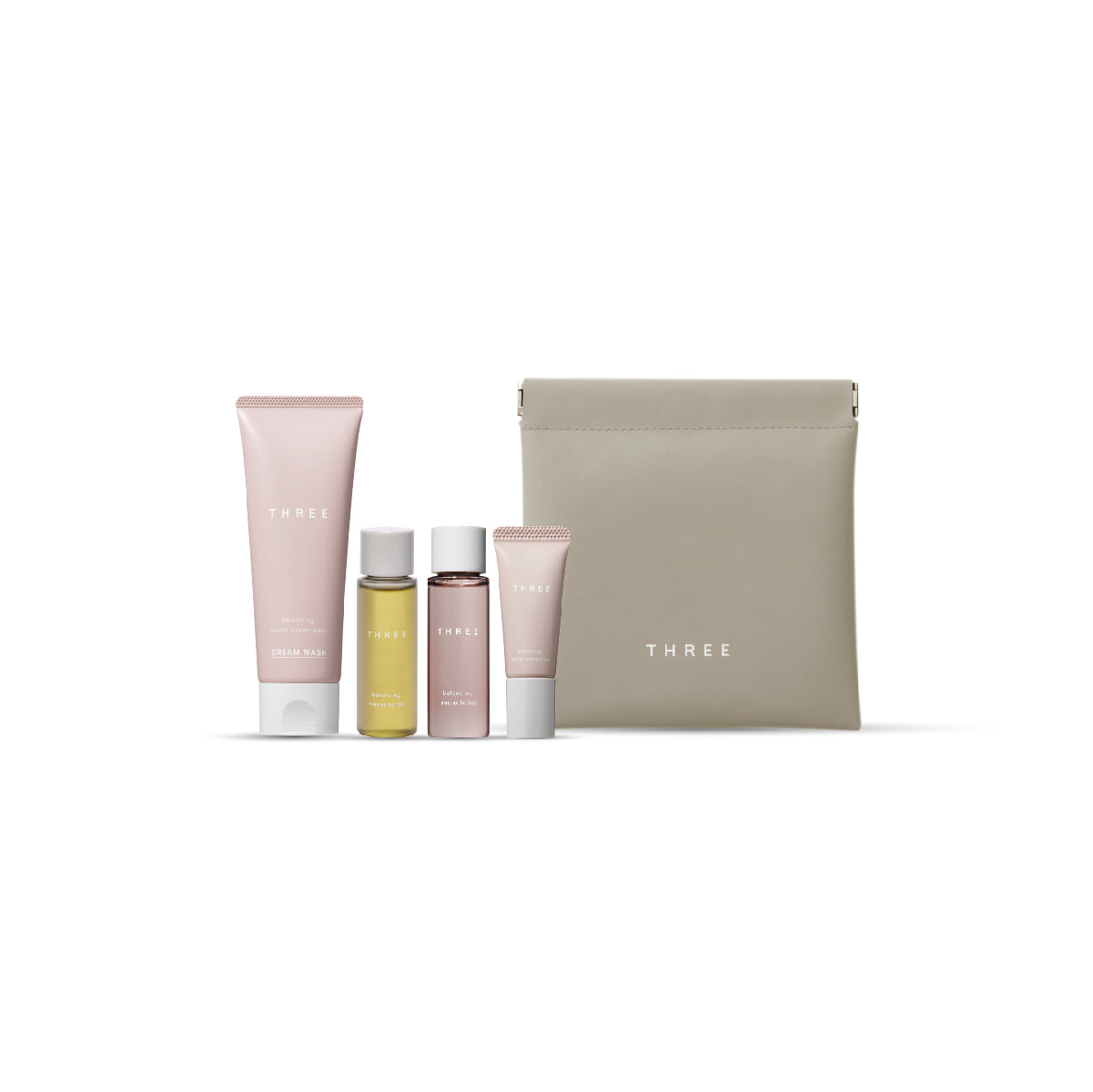 Sale price

฿ 1,800.00
Regular price
(/)
หรือ 3 งวด จาก ฿ 600.00 ด้วย
View details
INSTAGRAM
LINE UP